+971508829990
+971508829990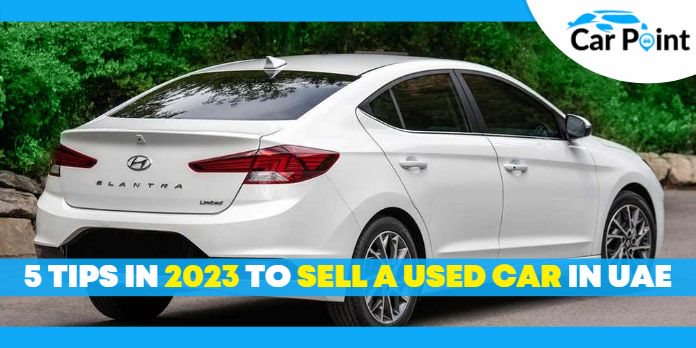 5 Tips in 2023 to Sell a Used Car in UAE
One of the busiest seasons of the year is to sell a used car in the UAE is about to start. 2023 best used car buyers are ready to buy old vehicles because plans for summer road trips with the family, weekend trips with friends, or just a yearning for something a little different and more modern than your old vehicle are all sparked by the arrival of spring. Here are our top 5 tips to ensure you get the greatest price when selling your old automobile in the UAE.
Selling your used car can be a great way to get some extra cash, but it's not always easy. You will need to do some research and be ready for any surprises that may come up when selling your vehicle. We've put together some tips for used car selling in 2023 so you can make sure everything goes smoothly.
1. Know the market of a used car!
In the UAE, thousands of used automobiles are sold every day, so it pays to be aware of what's in demand, what's not selling as well right now, and how much your old car is worth. Perform some research beforehand before deciding to try selling. Find out the typical cost of a model that is similar to yours in 2023, make, model, and condition so that you have a starting point from which to work. This is crucial if you're selling privately so you can choose a reasonable price. To get a quick and accurate value for a used automobile in 2023, try CarPoint's online valuation service.
You'll be confused by the significant price difference for the same automobile model if you attempt to explore listing websites to determine the value of your vehicle. These websites are useful for getting a general sense of the price range for cars, but they aren't exact.
2. Think about selling to a dealership!
Talk to a dealership if you want a rapid sale at a guaranteed price. Despite popular belief, selling to a dealer will actually result in you receiving the full market value for your particular make and model of automobile. Additionally, your sale might be completed in as little as 30 minutes, allowing you to immediately receive your funds through a direct bank account to bank account immediate money transfer. Additionally, you might think about selling your current vehicle for a more recent model and taking advantage of financing options to get a lot better vehicle than you had initially expected.
Before going to sell a used car privately or through a dealership keep the following tips in your mind,
· If you are not using the used car buyer services and dropping it off yourself, you must dispose of it responsibly.
· To make sure that your vehicle is sold out legally and without breaking any laws, there are some things to keep in mind:
· Make sure that you really want to sell a used car. This means that if you have an old vehicle that belongs to someone else, they should be notified before taking possession of it so they can decide how best to sell their car. You also need permission from any person who might own a lien on your vehicle (this could be a bank).
· Keep away from public areas where people congregate during peak hours such as highway interchanges or shopping malls; these places tend not only to attract attention but also create potential hazards such as traffic congestion caused by pedestrians walking across busy intersections while trying not to look into traffic lanes which could lead onto other roads leading away from where they came from.

3. Condition is everything
Obviously, potential used car buyers will be more interested in your used car if it is in better shape. Before listing your automobile for sale, spend the money on a full professional repair (inside and exterior). Your car's worth may be lower than you believe if there is even the slightest scrape or amount of dirt on the floor mats.
We're not just talking about cleaning up the dirt. Used car detailing is more than just cosmetic. It involves more than just sometimes vacuuming the seats and washing and polishing the body. It's a systematic approach to extend the lifespan of the car and shield it from damaging elements like the sun, especially if you live in a hot region like the UAE.
4. Make sure there are no gaps in your service history
Any gaps in your service history will quickly turn away potential customers. To be sure there are no little surprises hiding under the hood, your buyer will want to know the entire history of the car. In order for the prospective used car buyer in UAE to examine the complete history of your vehicle, make sure you save all records, service stamps, and sale records.
If you are confused about whether to fix your car before selling it because you are not an expert in sales then try to fix all minor issues to get a good value.
· Minor fixes for things like scratches and dents might actually help your car look better.
· You should change the engine oil and other fluids even if you intend to sell your car.
· The best thing to do is not to purchase new tires, but if the tires are in extremely poor shape, you can replace them and raise the cost of the vehicle.
· You should also be aware that every sale of a secondhand car to a private individual must include technical control. Its duty is to inspect the car's condition and safety.
5. Ensure that all debts are paid in full
It will be very challenging to sell a car if there is unpaid finance on it, and in the UAE, it is actually against the law to sell a car privately if there is unpaid credit on it. If you genuinely want to sell the automobile but still owe money on it, your most effective option is to speak with a dealership like CarPoint which will be willing to consider buying the car from you and paying off your loan without any issues. If you adhere to these recommendations, selling your car in the UAE shouldn't be an issue. As an alternative, get in touch with CarPoint right away if you prefer a quick, simple solution.