+971508829990
+971508829990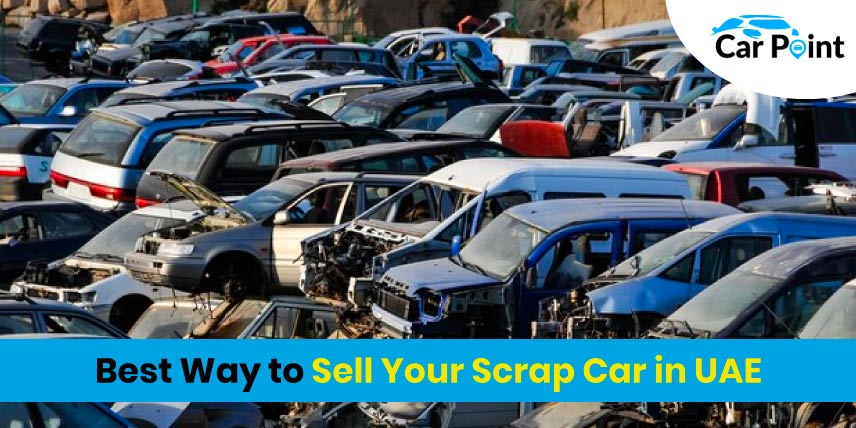 Best way to sell your scrap car in uae
Looking to know the best ways to sell your scrap car in UAE? At CarPoint.ae you may sell your non-running vehicle! To get a free quote in under 30 minutes, enter your registration number below and evaluate your car free of cost right now.
Tips for Selling Your Scrap Car in UAE!
A non-runner or scrap car is a vehicle that cannot move on its own power (or cannot be started at all) in the automobile industry. This can be the result of an electrical problem, a seized engine, or structural damage from a car accident.
When you realize your automobile won't start, you must choose whether to scrap it, get it fixed so it can be driven, or sell your scrap car.
You should think about things like the automobile's market value in its current state, the cost of the required repairs, and whether your car has a category while choosing the best course of action. Keep in mind that if your vehicle has been declared junk, it cannot be fixed so that it can be driven on the roads. Therefore, your only choices in this situation are to sell or scrap.
How Can I Market A Car That Won't Start?
There are a number of alternatives available to you when it comes to selling a non-running car:
Selling My Inoperative Vehicle on the Open Market!
If your car won't start, selling your car privately may be more difficult. Your non-running vehicle will undoubtedly fail its upcoming test if it isn't fixed to the point where it is safe to drive, regardless of whether it is now a MOT failure.
Your non-running vehicle will need to be hauled away at the moment of sale because it cannot be driven. Many potential customers will be turned off by this. Nevertheless, if you persist, you might be able to locate a willing buyer.
Being truthful and open should work in your favor if your goal is to sell your car as-is. When promoting your car, be sure to make it clear whether it is a non-runner and what insurance group it falls under (if any).
Even if getting your automobile fixed so it's roadworthy can make it more appealing to private purchasers, you'll need to decide whether doing so is even financially realistic.
How Can I Auction Off My Scrap Car?
You could also be able to sell a non-running car at an auction. You'll probably sell the car at a salvage auction rather than a regular car auction because it can't be driven. Keep in mind that there will typically be a seller's fee, and you will also need to make transportation arrangements for your non-running vehicle to the auction location.
For a more thorough description of what to do, please refer to our guide to selling your car at auction.
Why Offer Online Car Buyers Your Non-Running Vehicle?
Carpoint.ae is a reputable and well-liked car purchasing business. Many cars have been purchased by us thus far. You won't have to deal with the headache of advertising your automobile and finding a private buyer if you sell your non-running vehicle to us. There is no need to sell, and our valuation service is totally free (including your initial 30-minute valuation on our website and the final in-branch appraisal by our buyers).
Our quick service lets you fit selling your old car into your hectic schedule (the selling process normally takes around 30 minutes).
You can use our payment option to get your sale proceeds in as little as 30 minutes for an extra charge. For further details, please see our complete terms & and conditions.
FAQS:
What does it indicate if a car isn't running?
A car that cannot start or move on its own power is referred to as a scrap in the automotive business.
Where is the best place to sell my scrap car?
There are several ways to sell a non-running car, used, scrap, or junk car, including privately, at auction, or online through a business like Carpoint.ae. We advise doing market research and seeking car appraisals from any dealers and car-buying services on your shortlist before committing to a sale in order to help you choose which choice is best for you.