+971508829990
+971508829990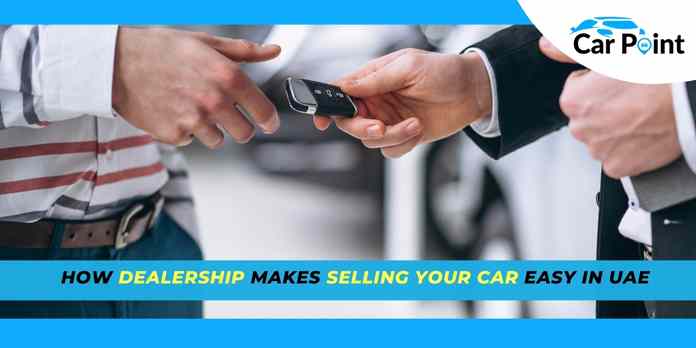 How Dealership Makes Selling Your Car Easy in UAE
Selling your car privately doesn't have to be a tedious process that leaves everything up to you and takes months. However, it doesn't have to be that way. The simplest option is to sell to a dealership, highlighting an easy procedure that can be finished in a single day.
When selling, a dealership like ours at CarPoint offers a number of advantages, such as:
· Working with automobile professionals
· Accepting all models and makes
· Managing the paperwork
· Transforming you into a new model
Follow CarPoint as we list the main justifications for why selling a car to a dealership is the smart move.
Fast & Efficient Process
If you are selling your car privately, it is your responsibility to do everything from creating the listing to following through with the sale, including contacting potential buyers, weeding out those who might not be serious buyers, meeting up with those who are, negotiating the price, handling the paperwork, and more.
That's a lot that falls entirely on your shoulders, and if you don't find the right buyer or arrangement, it might take months to complete. In contrast, selling to a dealership offers you a dependable, simplified process that is frequently completed in just one or a few days at most.
Deal with Industry Experts
An intriguing fact is that you can sell your car to professionals in the auto sector. They are more reliable than local auto buyers and are aware of all the laws, which is why this is the case. For those who know how to reach industry insiders, selling a used car to a dealer can be a rather easy operation. You're not only dealing with a quick and easy process; many of those driving it are individuals on the dealer side who have years of expertise doing just this.
Since CarPoint has been around for a while, we are expert car buyers who can buy your cars and have seen it all over the years to give you a fair deal and make the process simple. Additionally, selling to a dealership eliminates the need for you to go from meeting to meeting and puts a single professional team and location at your fingertips.
Accepting All Makes & Models
No matter what brand of car or SUV you have? A Ford, Toyota, Honda, Nissan, or any other. We want to buy it! Our only concern is quality because we have established a claim on only offering the best car-buying services in the United Arab Emirates. We are more than pleased to buy your car in any condition, so don't worry about potential used car buyers and the selling price of your car when selling it privately because of its make or model.

Get the Paperwork & Legalities Handled for You
Perhaps you really appreciate looking around for selling your car for cash, meeting car buyers, and doing so, but nobody likes having to deal with the laws and paperwork involved in transferring car ownership. On the other hand, if you sell to a dealership, none of those ins and outs apply to you.
Leave the legal and financial process in the hands of the pros at the dealership who are particularly professional in this area and who have been doing this for years. This is especially useful if your vehicle is in bad condition or even in a not-running condition. We guarantee you that you don't have any more obligations at the time of selling a used car to a dealership.
Offer Fair Market Value
It's a likable situation if you are selling your old car and you are also looking for a new one right now. Selling a vehicle to a dealership has many advantages. You can effectively use the transaction as a trade-in and discover a new model o car for you. Saving money on the financing and taxes is another benefit that you will need to pay for the new to your alternative. By applying the trade-in price when you sell your car to a dealership, you can get an even more reasonably priced car.
Benefits of selling your car to a dealership!
Selling your car privately can sound really appealing upfront because who doesn't like getting the best deal they can? However, the other things that you have to consider are; how much value you put on your time, and, how much risk are you willing to take. Just because you can make an extra buck by selling privately, doesn't mean you should.
Here are some benefits to selling your used vehicle to a dealership that you can't overlook.With how quickly inventory has been moving. If your next car purchase is contingent on selling your current vehicle you may not have the time to wait on that perfect buyer to offer you the best price.
Are you a used-car marketing pro? If not, you will need to learn how to list your vehicle and sell car by putting in all the hours to do so. It's a lot, especially if you live in a location with a competitive market and you're trying to get the best price possible. On top of all this, you have the added time of scheduling appointments, showing your vehicle, and allowing people to test drive it. Selling your vehicle privately can be a headache to say the least. So consider, how much is your time worth to you.
Sell Your Car Online with CarPoint.
In case you hadn't already guessed, CarPoint is the ideal location for you to sell your car online. We have years of experience, we handle the paperwork, we accept all makes and models, and we can assist you to get into a new, reasonably-priced alternative. To begin the sale of your vehicle, get in touch with us right away online, over the phone, or in person.