+971508829990
+971508829990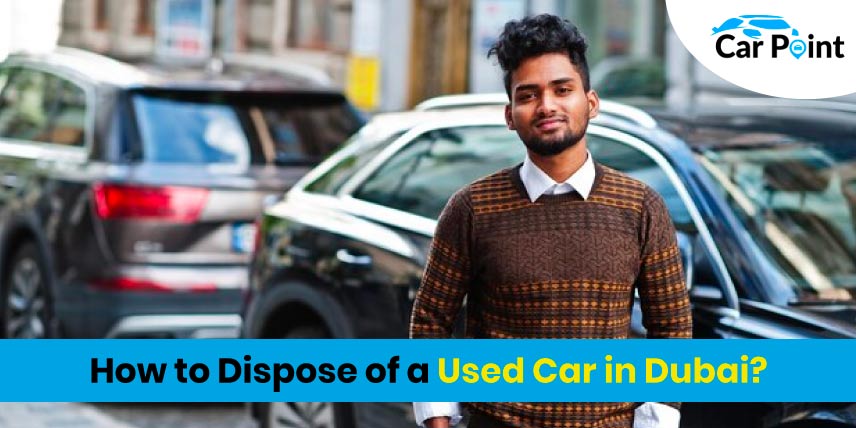 How to Dispose of a Used Car in Dubai?
When you want to dispose of a used car in Dubai not so long ago, it used to be stressful for the owner of the vehicle because of the used car market in Dubai. It was typical for a car owner to pay money to get rid of their totaled car (officially referred to as a junk car).
Those times are now gone, though, and when your vehicle has hit its breaking point or has been in an unfortunate accident, scrapping it can now be a profitable option. Everything you need to know about scrapping a car in Dubai is covered in this blog.
How Disposed of a Car in Dubai for Cash?
Generally speaking, Dubai offers a few options for car scrapping. Carrying your scrap automobile from junkyard to junkyard in the hope that someone will have the decency to put you in touch with the person in charge is the first and most ridiculous choice.
The second choice is to rely on a professional who buys Junk cars in Dubai. Below, we go into further information on each case.
How to Sell a Car in Dubai in order to Scrap It?
First and foremost, it's crucial to remember that if you plan to jump from one junkyard to another, you'll need to keep a car tower ready to move your automobile. This is expensive on its own and frequently negates the objective of selling a scrap car because the value of your transaction will be reduced by the money you have to pay the tower.
The chances are that, if you do manage to speak with the procurement manager in a junkyard—who is probably a very busy person—they will make you an absurd offer. Why do you have a car and drive around?" Your buyer may tell you are desperate to sell your car because of the fact that you are walking about with it in a tower. When investigating this scrap automobile selling possibility, exercise extreme caution.
How to Junk a Car in Dubai to Professional Scrap Car Buyers?
When it comes to selling your scrap car in Dubai, trash car buying specialists are the finest choice, despite being uncommon. Not just because there aren't many other options, but also because this is where you'll probably receive the best deal on your car.
As a part of their bigger car trading and repair businesses, scrap car buying specialists typically develop as a part of a broader car business network. As such, they recycle auto parts, restore vehicles, and properly utilize every gear and spring in your scrap car. This is why you might anticipate a higher appraisal from a car-buying professional.
In this case, the proverb "one man's trash is another man's treasure" is really true. Someone who sees an opportunity when they look at your scrap automobile can't quite match to a junkyard that will value your car based on the weight of the metal in it.
And that's exactly what reputable junk car buyers do. There are several factors that can cause a car to become a scrap vehicle. The next section will go over how to approach each category.

Where Can I Scrap My Car In the United Arab Emirates?
When it comes to selling your scrap automobile in the UAE, a scrap car buying specialist like CarPoint.ae is your best option. No matter whatever emirate you may be in, our team of towers and mechanics will come to you and provide you cash in hand after a brief evaluation of your car. It doesn't take more than 30 minutes to complete the process.
What Paperwork Is Required In the UAE to Scrap A Car?
In the UAE, the following papers are required:
The title for the vehicle
ID of the owner
Non-residents of the UAE must show their passport and a current visit visa.
A signed certificate of vehicle deregistration
Salik Tag canceled
Selling it to CarPoint, the top auto scrap buyer in the UAE, is the best way to scrap a car in Dubai. Old automobiles are adored by us. What most people would consider trash, we regard as gold.
There isn't a finer location for you to say goodbye to your reliable wagon. We value antique autos in a manner similar to that of a vintage car enthusiast. Allow your car to depart in respect because we will buy your used car.
Our Disposing of a Used Car Procedure is Easy to Understand!
By entering your information on our website or calling us, you must first indicate your interest in having your scrap car purchased.
After that, a member of our team will contact you to arrange a free car valuation and inspection (at your convenience), wherever your vehicle may be located inside the UAE.
Our experts will create an offer for you after they have evaluated your car and visited your location. If you agree, sign the paperwork, and we'll pay you the money and tow your car away for no further cost.
No issue if you don't like the offer. We appreciate your time and forward to working with you again in the future. We provide you the space to consider the offer further if you need more time.
You will only need to sign a few papers as part of our process, which only takes 30 minutes, and we will handle the difficult tasks.
Selling a scrap car in Dubai has never been simpler thanks to CarPoint.ae if you liked reading our blog on how to sell a used car in Dubai, you might also want to read our blog on how to scrap a car in Abu Dhabi.