+971508829990
+971508829990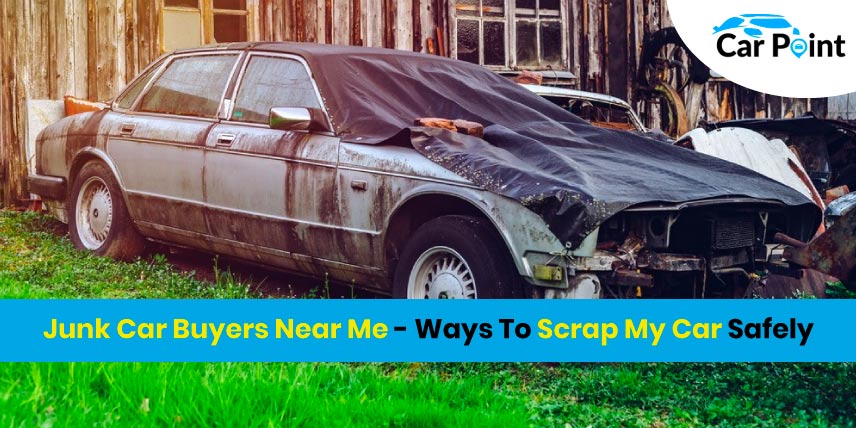 Junk Car Buyers Near Me - Ways To Scrap My Car Safely
Are you looking for junk car buyers near me or do you wish to safely sell my scrap car? Find out what to remember and how CarPoint can make the process go quickly!
There are many options for selling your old car for cash. For instance, you may sell it on the open market or trade it in at a dealership. However, tossing your car in a junkyard or scrap yard is frequently the quickest and most dependable way to get compensated for it.
But how can a car be properly disposed of in a yard? You should research the requirements and the businesses you choose to deal with in order to complete them appropriately. Here are a few suggestions to bear in mind.
How to Find Junk Car Buyers Near Me?
Always sign over the title when selling a junk car online. Giving a blank title or not providing one at all could expose you to legal repercussions. You are no longer legally responsible for the car after you sign the title over.
After you sign the car over, ask for a Bill of Sale. In many places, you need to provide this proof that you sold the car to the junkyard.
Verify your license plate options. Before selling your car, the owner may need to take the license plates off in several states. In other states, the license plates are attached to the car no matter who owns it.
Legal Requirements For Junk Car Buyers!
A tower that advertises on its truck that they pay "cash for junk cars" may not have had the necessary permit to purchase rubbish automobiles. Instead, they'll leave it at the neighborhood junkyard, making it more difficult for you to determine to whom you're transferring the title.
To purchase damaged vehicles for resale or to disassemble them for parts, businesses need a salvage dealer license. Make sure the company you're working with has the necessary license before selling a salvaged car to a junkyard.
Unauthorized buyers may misrepresent the vehicles they purchase when reselling them or neglect to properly transfer titles, leaving you legally responsible for the vehicles you sell.
For instance, you might be held accountable for whatever criminal activity the car is used for if it falls into the hands of a criminal. Make sure you are working with a respectable, licensed company if you want to avoid legal issues.

How To Get Cash For Your Clunker With CarPoint?
With just a few clicks, we can provide you with an offer in less than 30 minutes. You only need to:
Complete our form.
Post pictures of your vehicle.
Include the vehicle identification number for your vehicle.
Receive your assured offer!
Plan your no-cost pickup.
We can make a guaranteed offer that won't change upon pickup when we assess your automobile using photographs and a VIN. There are no hurried last-minute negotiations.
Our tow truck drivers will show up with a check in hand at the time of the scheduled pickup. You will be paid immediately after giving the driver the keys and signing over the title to the vehicle. It's that easy! Why not now? Get a quote from CarPoint and sell your car safely right away.
FAQs:
Where Can I Sell My Broken-Engine Car?
Finding out who buys automobiles with blown engines is the greatest approach to selling your car because not everyone does. For instance, certain dealerships might not be enthusiastic about your car.
The best location to sell your automobile with engine issues is to a website that buys trash cars. CarPoint may pick up your vehicle and pay you in as little as 24 to 48 hours after determining the genuine market value of it in any condition.
How Can I Sell An Automobile With Engine Issues?
Using an online junk car buying service like CarPoint is the most convenient way to get rid of your problematic vehicle and receive payment for it. Vehicles of any condition, especially those with damaged engines, are our area of expertise. Get a free, no-obligation quotation in only 30 minutes. All offers come with Complimentary towing and title transfer.