+971508829990
+971508829990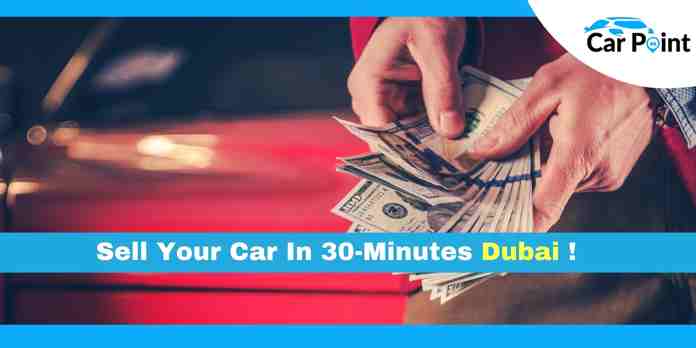 Sell Your Car In 30-Minutes Dubai !
Are you trying to sell your car in 30 minutes Dubai and acquire a new one? In the United Arab Emirates, you have a wide range of options for selling cars. By getting a rapid evaluation of your vehicle today, you may skip the trouble of advertising your used vehicle on classified portals.
With the use of its extensive vehicle-buying services like fast car assessment, thorough physical inspection, and management of past-sale paperwork. CarPoint helps make selling a used automobile easier. We are a reputable car-buying website where you can easily and quickly sell your vehicle.
Sell your car in 30 minutes in Dubai for cash!
By guiding them through a structured automobile buying procedure, car buyers assist used car dealers in determining the appropriate price for their vehicles. When the auto seller decides to sell your vehicle to used car buyers then they do all the necessary paperwork, including the de-registration of a car.
Selling your automobile in Dubai is not simple, and it can be especially difficult for first-time car sellers. In order to sell a used automobile privately, you must advertise it, meet strangers for a vehicle inspection, permit test drives, and handle any necessary post-sale documentation.
The most difficult aspect of selling a used car privately can be handling the paperwork because it requires, among other things, deregistering the vehicle. Selling the used car to CarPoint will, however, prevent all of these issues.
Process of selling yours in 30 minutes in Dubai!
It's difficult to sell your used car in 30 minutes. Everything takes time, from looking for suitable buyers to arranging the agreement and collecting payments. Time is the most valuable resource in the modern world, as the saying goes.
Most of the weeks on our calendars are already booked, and weekends seem to exist only in our minds. Finding a potential buyer for your old car in such a circumstance seems difficult. Typically, the first step in selling used cars is to find friends and acquaintances who are in the market for a vehicle.
When the area of our direct contacts is fully explored, we try to search for people in our neighborhood and among our friends' friends. In the initial days of beginning your hunt for the ideal buyer for your car, the majority of these dreams are dashed.

Selling a used car to an individual buyer!
Deal-making with someone you already know is the most straightforward way to sell your car. It reduces the possibility of selling your car to an unreliable buyer. Calling your friends and family and asking them if they're interested in buying a car is typically the first step in the process.
If you're fortunate, you might find a buyer for your used car after just a few calls. However, it is extremely uncommon to locate someone in your group who is willing to buy your car. The estimated time range for selling a used car to an individual buyer is between one week and several months.
What if you found a buyer for your car among your friends? However, there is a potential that dealing with the person's payments or paperwork will take a while. This is typically the cause of why selling your old car to a lone customer takes so long and is ineffective.
Sell Your Car to used car dealers!
Selling your old automobile to a local car dealer could be your next move if selling to an individual buyer didn't work out. In UAE, there are often markets where secondhand automobiles may be bought and sold in every city. On a weekend, you can drive up to them and sell your car.
These dealers act as the go-betweens for you and the new owner of your car. They typically leave your car on display close to their stores while they wait for someone to ask about them. It can take a day or it might take months to complete this process.
Selling a used car still involves pain. Another important component of the transaction that may take some time to complete is the documentation. Because the dealer depends on the future owner of your vehicle to make all necessary payments. The process of getting the money into your account typically takes a very long time.
Selling used cars through online classified ads and social media!
Posting an advertisement on various online classified and social media sites is one of the more contemporary ways to sell your car. This entails taking clear images of your car and waiting for folks to get in touch with you. The biggest danger one encounters is sharing personal information like phone numbers.
You could have to wait a very long time after publishing the ad before leads start coming in for your car. There are quite high odds that you won't get a decent bargain for yourself even after protracted negotiations with hundreds of potential purchasers.
Sell your car in 30 minutes Dubai at CarPoint!
A car-selling platform called CarPoint is available in the United Arab Emirates. CarPoint buys your automobile and offers you a suitable value for your car. This streamlines and simplifies the procedure. It is a technologically based answer to the country's congested used car industry.
Bringing your automobile to the CarPoint website is the first step in the selling process. An experienced auto inspector examines your car and provides you with a thorough report on it. Next, CarPoint provides the best price for your car right now.