+971508829990
+971508829990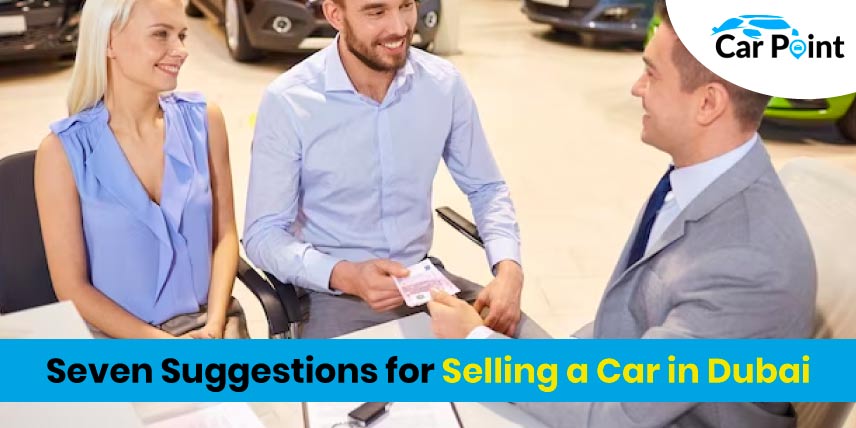 Seven Suggestions for Selling a Car in Dubai
Do you intend for selling a car in Dubai? Possibly scale back? Or do you simply feel like a change? Perhaps you've already got your eye on a nice new set of replacement wheels. However, you must sell your current vehicle first.
Therefore, you've come to the perfect location if you're trying to sell your car in Dubai, get the most money for it, and sell it quickly. Here are 7 suggestions to help you sell your automobile, from getting the greatest price and prepping it for sale to selling your car and drawing in several purchasers.
Prepare Your Car for Sale | Selling a Car in Dubai!
Make sure your car is in the greatest possible condition to attract customers. Make sure the car is thoroughly cleaned both inside and out, but you should also think about addressing tiny problems like paint chips and dings.
Not a mechanic? No issue! Numerous minor auto problems are simple enough for you to handle on your own. Small efforts on your part will make the car look more presentable, and purchasers will be more inclined to say "yes" to a respectable car. You may even be able to increase the worth of your car. Retouch chipped paint, mend dings or tears in leather upholstery.
Decide on a Price before Selling!
Finding a price to market your automobile at cannot be done by looking up comparable vehicles in the classifieds or by evaluating your car by yourself. A flawed strategy that takes a lot of time and offers too many variables, giving you an incorrect estimate of the cost of your car.
The best (and easiest) method to evaluate your car is to get a professional appraisal that looks at more than just the model and year. In order to assess your car's market value, a professional evaluation, like Carpoint.ae FREE Instant Car Valuation, will examine the model, trim, and condition of your car as well as analyze thousands of other vehicles on the market. Plus, you can obtain this evaluation right away with us!
For accurate pricing, the FREE Instant Car Valuation will examine tens of thousands of vehicles and make calculations using data from hundreds of independent UAE dealers, insurance providers, and banks.
By getting an independent appraisal, you may not only find out the instant value of your car but also arm yourself with information that will help you when a buyer tries to haggle a deal with you.
Discover the Ideal Platform for Selling!
You can put your automobile for sale on a variety of platforms, including Facebook, classified websites, and online marketplaces, which is typically the option that ensures the most reliable results.
The greatest option, where you may offer your automobile for FREE right now, is definitely to use CarPoint, the largest marketplace in the United Arab Emirates.
Additionally, unlike many websites based in the UAE, our automobiles are independent. This enables us to be completely open and honest with all of the buyers and sellers on our website, resulting in the best outcomes for everyone.
This is a reputable car marketplace where you can sell your car. If you're searching for a quick sale,
they'll also make you an instant, no-obligation cash offer for your car.

Money Component!
Sorting out all funds comes after a buyer and the transaction have been agreed upon. This is likely the most crucial phase.
Before transferring ownership, a seller must pay off any and all outstanding debt they may have on the vehicle and then arrange a payment plan with the buyer.
There are several ways for the buyer and seller to conduct business:
A banker's check should be used instead of a regular check, which can bounce, as it is equivalent to cash and is therefore vital to record.
Cash payment - You can complete this transaction in the RTA office, or if you want more protection, you can meet there instead. Your bank will be pleased to help.
Bank-to-bank transfers are just as good as cash.
Although the buyer will need to have faith in you, the seller, we strongly advise that the transfer of monies take place prior to the transfer of ownership. But don't give away ownership before getting paid.
Close the Transaction!
Once all of the financial payments have been made, the remaining step is to complete the documentation by going to an authorized RTA location. To make it simpler to transfer ownership of your car, the RTA has outlined the entire procedure and places, which may be accessed here.
The car must also pass a vehicle inspection test at the closest inspection service center if you live in Dubai and it is older than three years. These are usually found close to RTA centers.
The final and most costly aspect is that before the sale can be approved, you must pay up all outstanding fines.
Although it might be exhilarating, buying and selling cars can be very stressful. Our goal is to help you avoid any hassles by finding you the best price for your car, the most interested parties, and a reputable location so you can be sure that everything you see is exactly what you'll get.
If these pointers don't provide you with all the information you need, you may read about the entire car-selling process here.