+971508829990
+971508829990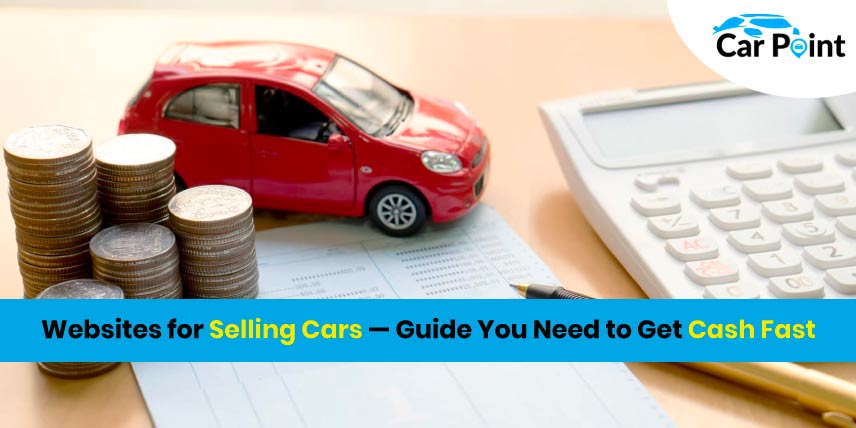 Websites for Selling Cars — Guide You Need to Get Cash Fast
If you are looking for websites for selling cars then with CarPoint, selling your car online for cash is quick and simple. Find out the easy steps you must take to receive an offer and payment for your automobile right away!
You're prepared to sell your damaged car and are aware that doing it in person can be difficult. So you want to use the internet. Thankfully, this is quite feasible and can result in a bigger profit than the conventional selling strategy.
Online car sales are simpler than in-person transactions. Less effort, less time, and most crucially, less money is needed. Also, compared to when it is parked in your yard, more potential purchasers will view your car online. Hence, if you decide to sell your car online, you'll have it gone quickly.
You can learn more about how to successfully sell your used car, damaged, or totaled car online in the sections that follow.
Who Will Buy A Damaged Car? | Websites for Selling Cars!
Cars have often been sold personally. Traditionally, the only location to sell a car back was at the dealership. Similarly to this, car dealers would place for sale signs on their cars and place them on their front lawns. When their neighbors would pass by while walking or driving, some would show interest and finally buy it.
Yet anything can now be done online in the age of the internet, even buying and selling cars. While being more recent than in-person sales, selling cars online is effective and secure. Despite the fact that some customers and sellers are dishonest, the majority are trustworthy and willing to accept your asking price. As a result, finding online car buyers is entirely feasible.
Where to Sell Your Car!
There are many websites that help with car sales. Either a digital marketplace or an online dealership are options for selling. These websites are excellent for selling old automobiles since they can evaluate your vehicle and give you a secure, expert platform to do so.
Even though they put your car's advertisement in front of the correct potential customers, employing these platforms might be expensive. Also, online car lots often won't take damaged or salvage vehicles. They focused on vehicles that were used but still had value. You might thus be unable to sell your car on their site altogether.
As an alternative, you can sell on online stores, Facebook Marketplace. These markets carry a higher level of risk because you are unsure of the customer. Nonetheless, a lot of individuals visit these sites in search of cheap cars, even broken ones.

The Best Site to Sell Your Damaged Vehicle Is CarPoint.ae!
You already know that the greatest location to sell your junk car is online. Yet, it can require time and resources that you don't have. Fortunately, CarPoint.ae offers a simple method for you to easily sell your car online.
You don't even need to make an appointment with us because, unlike other online car buyers, we don't need to inspect your automobile in person. This is due to the fact that we have a special and exclusive value technique that is intended especially for imperfect automobiles.
All you need to do is provide information about your vehicle on our online form. Your quote will be more accurate if you include the VIN and recent pictures. This procedure takes just two minutes. Your quote will be generated, and all you have to do is click accept. You will receive the same amount you were quoted and this deal is guaranteed.
Next, within 24 to 48 hours, we will send a driver to deliver your check to you in person. There is no charge for towing. Simply turn over the keys and the title to your vehicle. I'm done now. With CarPoint, selling your car requires you to barely leave your couch.
We provide a free, quick, and simple option for you to sell your car. Someone from our committed customer support team can assist you if you have any questions. Attempt selling your automobile today using CarPoint.