+971508829990
+971508829990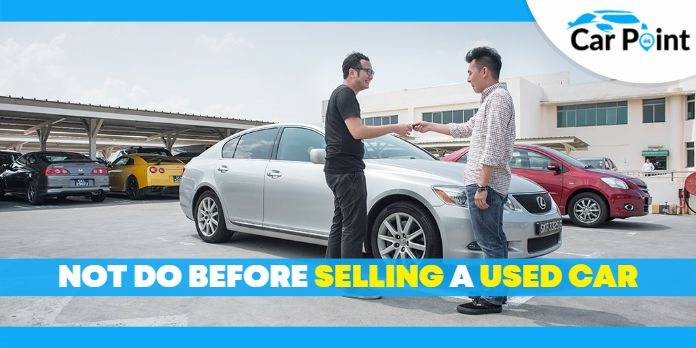 What You Should Not Do Before Selling a Used Car
If you are going to sell a used car because of a few reasons like buying a new one, or you want to change the model of the car with a new model that you like most. Then you can face so many tactics to complete the sales process of a used car. Because the person who has an idea about how to sell a car effectively and quickly required some sort of experience and knowledge. You can easily sell a used car online even if you don't have a bit of experience in this industry by getting help from CarPoint. There are so many other competitors on the market to be able to sell any car you need to follow the right path including characteristics in the process of car selling. Here we shared what you should not do before selling a used car to keep yourself aware of the do's and don't of the automotive industry.
Show urgency to sell!
In case, when you show urgency to sell a car then the other party inevitably will have the advantage to offer you a lower price for your used car. This will allow used car buyers to buy your second-hand car at a lower price. This price is very low less than your estimated value and the chances of getting suitable value from a used car are relatively low.
In the car, you shouldn't hit any posters!
According to UAE law, it is not allowed by the government to put signs on the windows or paint them like selling a car, call me at the phone number. To know all these rules we recommend you explore item 67 of Ministerial Resolution No.178 because breaking these rules you could receive a fine and they will confiscate your car.
Beware of shared information!
We all know that it is necessary to provide contact details or information about your used car to get in touch with potential used car buyers. However, you need to keep in mind that there are also thieves and scammers looking for opportunities to make scams with you. So you need to be careful about all these social tactics to keep yourself from scams.
Take care of what you say!
If you are going to sell a car and go through the negotiation process then you have to be careful about what you say for example if you said that ''it is all proof'' then this type of word can generate strong feelings about the surety of your words. Imagine you are talking with a used car buyer and using such words as proof then after all these negotiations, the next process is inspection. If your proofs are false then you cannot build trust with the buyer and never make your desire true of selling a used car.
Remember that the market always has so many options for car selling, so don't lose an opportunity to sell a car on a large percentage. We recommend to used car buyers use phrases like the price is negotiable for anyone who can help them to grab more sellers.
Don't hide information!
Don't try to hide information or your used car's condition because sooner or later this could come to light and you can face serious legal issues claimed by the buyer. After your car selling process, the buyer can inspect a used car in different ways and if you hide any accidental or damaged information from the buyer then they will take strict action against you. Don't forget that the car is under warranty or the warranty period is over. Your car's current condition is your responsibility so don't hide any information from the buyers. Because after detecting any issue the buyers will directly consult you they don't contact the company or any other person. The best thing for you is always to be clear, honest, and transparent and go to professionals in the automotive field when you have any doubts.

The insurance is not a plus for the sale!
If you want to sell a car online then remember that insurance in many cases cannot be transferred so you need not worry. If you are trying to sell a used car make sure you can transfer insurance or if in any case it cannot be transferred then it is not a plus for car selling. It is a procedure that you must have to perform all insurance-related details on your own before making a sale on a used car.
As you may see here, the RTA page describes!
Agreement for Online Selling of Cars- RTA UAE
· The user needs to pay any traffic fines before using RTA services including Dubai and other areas of the United Arab Emirates.
· Before acquiring this service make sure your old, used car is mortgaged.
· If you are using the RTA website make sure you have settled fines
· Pay all the Online Dubai traffic Fines Payment
When a sale must be made quickly!
If you are selling something urgently then you have to start with an alarming price like a rare opportunity or a come fast to get. This will be very helpful for you to reach potential buyers quickly and make a sale on a used car easily without wasting so much time.
Just something to be aware of before a car sells!
We invite you to come to CarPoint to learn more about what you have to do before selling a used car online. Here we have mentioned a lot of options for your help and by applying these methods you have more chances to get a fair and excellent price for your used car. And also you can sell your car quickly in Dubai without wasting much of your time and money on it.
The ideal moment to sell?
Car warranty also affects the car's value and this is very important to remember that a used car's price cannot be stable with time. As we discussed before that the warranty of the used cars depends on the car's type, manufacturer, cost, and use also. So you need to keep in mind all these issues before valuing a used car. The value of a new car also depreciates when it is handover to the buyer from 10% to 15%.
It is very important to keep all these factors in mind before you are searching for selling an old car or buying a new one. Many individuals think that it is the best solution for getting a sufficient amount of money from a used car when it covers 3 years of age or before accumulating a sufficient amount of mileage. But you have to keep your used car with great care then the chances of getting reasonable value from a used car are relatively high.