+971508829990
+971508829990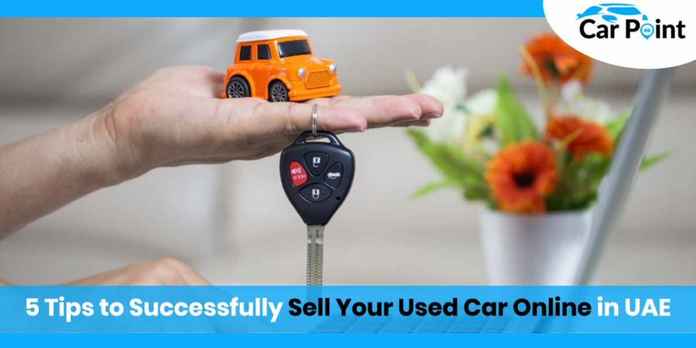 5 Tips to Successfully Sell Your Used Car Online in UAE
If you are looking to sell your used car in the UAE, but don't know how to go about it, we have compiled a few tips that will help you get started. If you follow these simple steps and avoid any costly mistakes, you're sure to find your car buyer much quicker than you had originally anticipated. Plus, by using our car valuation calculator, you can get an idea of what your car is worth before starting your search! Here are 5 tips to successfully sell your used car online in UAE.
1) Be Realistic About What You Are Selling
If you're considering selling your car online, there are a few things that you should know. First of all, your car will not be worth as much as it was new. Second of all, depending on the type and year of your vehicle, you may need to pay import tax. Thirdly, your car will need a clean title before it can be sold. Fourthly, make sure that you have removed any personal items from the interior so they don't get mixed up with another buyer's belongings. Lastly, if you want to sell your car for a higher price then you'll need to keep it in excellent condition or else someone might offer less for it than they would for a used but well-kept model.
2) Get it Ready for Sale
It is important that your vehicle is clean and well-maintained, and that you have a professional inspection done. A checklist of things to do before selling a car includes:
- Change the oil and filter. - Check all fluids (brake, power steering, windshield washer, engine coolant). - Inspect tires for wear and leaks. - Check your lights for burnt-out bulbs. - Kindly Test headlights, brake lights, and turn signals. Look under the hood for any leakage or signs of damage. Have someone start it up to check for unusual noises or other warning signs. Make sure the odometer reading matches what's on your vehicle registration document.
3) Take Good Pictures
The most important thing you can do before listing your car for sale is taken to high-quality pictures. The better your photos, the more likely you are to have success with your sale. You'll want to make sure that you're showing off all of the features that make your car desirable, but also include close-up shots of any imperfections so potential buyers know what they're getting. If you're not a professional photographer, ask a friend or family member who has some photography experience to help out. After uploading them to an online listing site like CarPoint, take screenshots and save them on your phone in case someone asks for additional photos.

4) Find buyers on the internet
The Internet is a great place to find buyers, but it might not be the only one. Check out your local classifieds and newspapers as well, especially if you're trying to sell something like a car. These are things that people might not buy on their own, so they may not even know that they can buy them online. Pricing your car is always an important decision for both buyers and sellers. One of the best ways to figure out what price you should set for your used car is by researching comparable cars locally and then checking what similar models are going for online.
5) Price It Right
The first step is pricing your car. This can be a difficult task, especially if you're not sure what to charge or are unsure about how much your car is worth. A common rule of thumb is that you should price your car at 20% higher than the average market value for similar cars.
If you're selling a car online, it's best to list a price that is lower than what you would sell it for in person so as to attract buyers who may not otherwise come across it. Remember that once people have clicked on your ad and found out more about the car, they will often offer less money than they originally intended to pay because they know you're motivated to get rid of it. But keep in mind: unless you have a very specific reason for wanting one certain amount for your car (being unable to purchase another vehicle until funds become available), avoid naming an asking price too high or too low.
Conclusion
If you want to sell your car in a hassle-free way, then you should consider selling it online. Unfortunately, this is not something that can be done overnight and will require a substantial amount of time, energy, and, money. With that being said, if you have those resources available then there are some key steps you can take to ensure the success of your campaign. The first step is setting up a professional website like CarPoint for your used car selling. This will not only give potential buyers of used cars an idea of what kind of car they're looking at but will also help make buying process quicker. For them, since they don't have to go through any haggling with you before finalizing their purchase.