+971508829990
+971508829990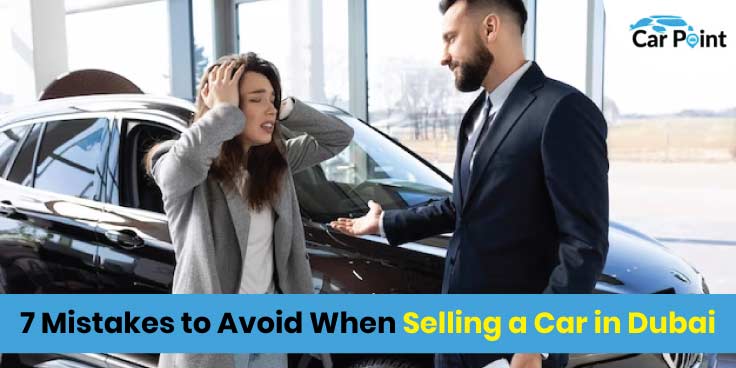 7 Mistakes to Avoid When Selling A Car In Dubai
It might be difficult to sell a car in Dubai, particularly if you've never done it before. There are numerous factors to take into account, and if you're not diligent. You can wind up making an expensive error.
We'll go over some of the most typical blunders made while selling a car in Dubai in this blog post so you don't have to. Continue reading to find out more about what NOT to do when selling a car in Dubai, from overpricing your vehicle to failing to negotiate.
Avoid These Blunders When Selling A Car in Dubai!
If you intend to sell your car in Dubai, there are a few things you should stay away from in order to receive the best possible deal. The following blunders should be avoided while selling an automobile in Dubai:
Never undervalue the importance of your vehicle. Your automobile can still be worth a good amount of money even if you've had it for a while or it's not the newest model available. For a reasonable estimate of your car's value, do some research and find out how much similar cars are selling for in Dubai.
Don't overpay for your vehicle. Naturally, you want to sell your automobile for as much money as you can, but if you overprice it, consumers will be turned off and find another vehicle. To price your car competitively, do your homework and find out what other vendors are asking for comparable models.
Don't overlook marketing. Getting as many people to notice that your car is for sale is essential when selling a vehicle. As well as any real bulletin boards or newspapers where individuals might be shopping for second-hand cars, make sure to post your car on internet classifieds.
Be willing to compromise when negotiating. Buyers will almost certainly attempt to lower the price of your car, so be ready for this and don't take it personally. Establish a price range that you are unwilling to go below, but have an open mind in order to come to a mutually agreeable agreement.
Remember to include any additional features or accessories that your vehicle may have. Make sure to mention any extras or unique features your car has, such as a GPS system or sunroof, in your advertisement so that prospective buyers are aware of them. These extra features can increase the appeal of your car to potential buyers and raise the amount you receive for it.
Remember to keep all of your paperwork organized. Certain documents, like the vehicle registration certificate and the results of the emission test, are required when selling an automobile in Dubai. To ensure a smooth sale, make sure you have all these documents ready before meeting with any prospective buyers.
Remember to keep your car clean. Make sure your car looks its best before showing it to anyone because first impressions matter. Along with performing any necessary minor repairs or maintenance, give it a thorough wash and vacuum. You can make sure that your car looks good to prospective buyers and helps you get the best deal by following these easy steps.
Finally, when selling a car in Dubai, it's critical to be on the lookout for scams. Many people are trying to take advantage of sellers who aren't cautious. Thus, do your homework and only work with reliable buyers. By using these pointers, you should be able to sell your car in Dubai for a fair price and steer clear of any significant pitfalls.



In The UAE, How Can I Sell My Car Privately?
There are a few things you should be aware of if you want to sell your car privately in the United Arab Emirates in order to prevent any possible errors.
First things first, confirm that all the required documentation is in order. It's time to start marketing your car once everything is in order. The most effective method for doing this is to post a listing on internet classifieds. Make sure the listing for your car has crisp photos and all the pertinent details.
As soon as you start getting inquiries about your vehicle, make sure to schedule viewings for a time and location that work for you. For extra security, it's a good idea to bring a companion when you meet with potential buyers.
Be ready to haggle over price at any point during the selling process. Set the price high and anticipate attempts to bargain by buyers. You still want to get a good return on your investment, so don't go too low.
It's finally time to close the deal after you've reached a price. Before you turn over your car's keys and paperwork, make sure you are paid in cash or via bank transfer. That's it, too! Your private automobile sale in the United Arab Emirates went well!
Conclusion:
If you're considering selling your car in Dubai, there are a few typical blunders you should stay away from. Keep these pointers in mind to help you get the best price for your car and increase the likelihood that you will sell it in Dubai, from overpricing it to not advertising enough. For more detailes follow CarPoint.ae on Facebook, Twitter, and Instagram to find out more!