+971508829990
+971508829990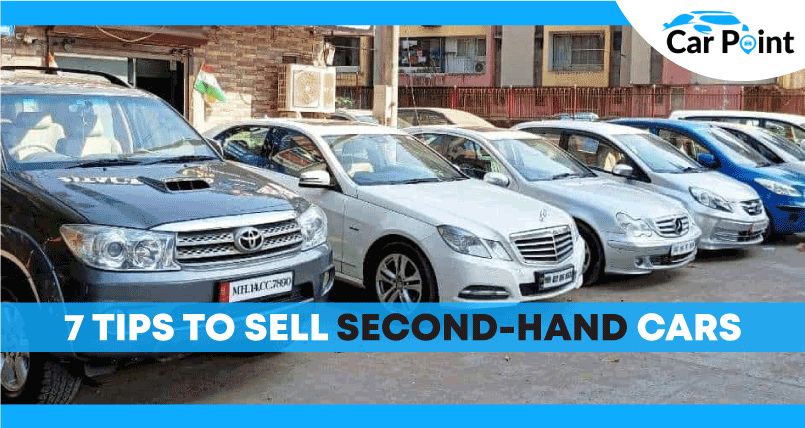 7 tips to sell second-hand cars online in Dubai
To sell a second-hand car online in Dubai isn't easy because it needs so many tactics to get a good price for your used car. Selling a used car privately can be a difficult and ultimately exhausting task, but it can pay off handsomely in the long run if you approach it strategically and follow some key steps.
To get a profitable value for your used car you have to follow some tips which are given below.
1. Complete documentation of your used car
If you drive a car, you must already know that documentation is very important. It is generally the trickiest part while selling used cars. There are various forms and steps involved in selling your used car online in Dubai. If documentation is stopping you from selling your used car then visit our site Carpoint.
Make sure you have these documents
· Passport and residency visa
· Emirates ID
· Car's mulkiya
· Driver's license
· Car insurance
· AED 400-500 to cover the transfer cost
2. Take some clear pictures of your used car
When listing your car for sale or wanting to sell used cars take good pictures of your vehicle and ensure potential buyers can see the car in full. Carpoint recommends you use no less than seven pictures, including:
· The front (left and right side)
· The rear (left and right side)
· Inside (front)
· Inside (rear)
· Wheel shot (front wheel)
3. When taking pictures be careful about the background
We all have an idea that pictures or images have more importance than other things. Because images are the first source of getting attention. Whenever you wish to sell a second-hand car take some clear pictures of your vehicle. But the most important thing is that while taking pictures check the background and surroundings. A clear picture needs clear background.
4. Think about offering to a showroom
To sell your second-hand car online in Dubai you have to search for used car buyers in Dubai.
On the off chance that you need a fast deal with a surefire cost, think about conversing with a showroom. As opposed to prevalent thinking, you will not get less for your vehicle on the off chance that you offer to a seller, you'll really get the right kit incentive for your make and model. Also, your deal can go through in just an hour, with a moment cash move directly into your ledger so you can get to your assets straight away. You can likewise consider involving your vehicle as an exchange for a fresher model, as well as getting back bargains so you could wind up with a greatly improved vehicle than you expected!

5. Clean your car thoroughly
Make sure your car is in good condition to present it as its best-used car selling in Dubai by having it cleaned thoroughly. Do not wash your car on the street, take it to the car wash. Washing the car on the road will result in an AED 100 fine.
Need to support your vehicle's esteem prior to selling it? Clean it. It's guaranteed that cleaning a vehicle can build its deal esteem by up to 10%. In a case is the exact number a reality that individuals frequently judge used cars on their initial feelings. So it's a good idea that the tidiness of your vehicle can immensely affect what you get for it.
Every one of the specialists Business Insider talked with suggested cleaning a vehicle prior to putting it available to be purchased. Cleaning a vehicle completely flags that your vehicle is very really liked and shows purchasers it merits their time.
Merchants ought to, in any event, wash the vehicle, however they ought to likewise think about investing a touch of additional effort in specific regions.
So we can assume that selling a used car needs complete cleanliness.
6. Do research about the marketability of your used car
While you have decided to sell your used car in Dubai and want to get a good price for your used car what you have to do is just do a little search. When you do search about your used car then you could easily know the fresh marketability. Recent market prices can give you an idea about your used car's worth. While you wish to sell your used car do little research about your car's model, valuation, and marketability. So many companies on the internet can help people by selling used cars. But the most important is which company is trustable or which one is not. Because we all know very well that people all around the world are quite conscious of their vehicles. Carpoint is there for you to get rid of this tension. We are the best buyers of used cars in Dubai. Do a little survey of our site and you could know the important information about used car selling in Dubai.
7. Little repair of your used car can improve its value
If you are ready to sell your second-hand car then make sure your car looks good. Any scratch or default can reduce your car's price. So, We advise our customers to repair their used cars to get a better selling price. Some business owners recommended that spending a little amount on your vehicle can make it more attractive for the buyers and you also get benefits. Making major repairs to your used car can increase its worth in the market.