+971508829990
+971508829990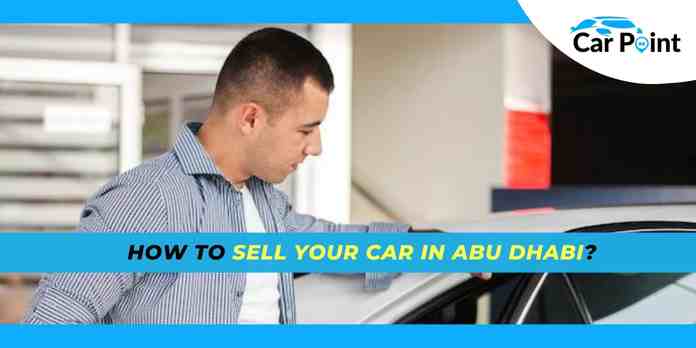 How to Sell Your Car in Abu Dhabi?
With so many options available in terms of how to sell your car in Abu Dhabi, you need to visit different buyers. You need to differentiate yourself from the other sellers who are offering similar vehicles. In the end, you have two options: either you decide to sell your car privately or you select the simple route and accept the dealer's rate.
Selling Your Car Privately in Abu Dhabi!
If you're considering selling your car privately, you'll need to invest time in developing an advertisement that will attract buyers with quality images of your automobile, an attractive asking price, and a description that includes the essential details.
Selling your car privately is the longest path, requiring constant communication with a variety of interested buyers and exposing you to the possibility of scammers, frauds, no-show buyers, and fraudsters. You will also need to invest time, effort, and precaution in this process.
Selling Your Car to a Car Buying Company!
A car-buying company (a corporation that works to buy any car and claims to give you a fair price for your vehicle) is another option like CarPoint. Although doing so will cost you much less than your vehicle's current market value considering its condition would be.
You want a system that will help you avoid both of these risks: dealing without any buyers, scam artists, dishonest online buyers, and excessively poor trade-in agreements. Continue reading to learn how to sell your automobile in Abu Dhabi without hassle. You'll receive the best value for your car as long as you're aware of the dangers associated with each decision.
Make Sure Your Car is ready to Sold!
Although it may seem simple, a check of Abu Dhabi's online car-selling listings will reveal several sellers who fall short at the first hurdle. Individuals who sell cars to private dealers only to find them to be severely neglected and dirty are the stuff of nightmares.
Some potential buyers could believe that if an automobile has been left unclean by the owner, maintenance and servicing may have also been neglected. At first appearance, a neglected and dirty car can be enough to convince someone to leave without calling back.
Make sure to give your car a thorough cleaning before taking pictures of it and selling it. Buyers desire vehicles that will look well and perform well as soon as they are bought. Repairing visible cracks and flaws is also important since buyers may try to negotiate for a lesser price if they are aware of other expenses associated with the vehicle.
Prepare Your Documents Before Selling Your Car in Abu Dhabi!
When talking with a possible buyer or selling your car online, have your paperwork on hand, such as receipts for maintenance invoices, evidence of insurance, the service book, etc. It can help establish confidence in the automobile you're selling.
A possible buyer should not be given the documents, copies of them, or permission to take photos of them. Fraudsters can copy details from your car to match a stolen one that looks identical.
Decide on a Fair Asking Price Before Selling Your Car!
The primary concern when determining the value of your car for sale is how much someone else will pay, not what you paid. In many cases, you won't even need to drive to the dealer's location. You can simply contact them and describe your vehicle to get an estimate of how much your present car is worth. Also, you can get a free car valuation service from CarPoint and know the actual worth of your car.
Online ads are also a wonderful place to start when comparing pricing for comparable cars. But it's better to avoid using them as your sole resource when determining a reasonable asking price. To narrow down your search even further and ensure that your asking price is based on vehicles of the same make and model as your own, use the filters on the classifieds page.

Selling Your Car in Abu Dhabi to a Dealer!
Why would you give a dealer your automobile for selling? Time and comfort. It is quicker, less complicated, and leaves everything to the experts' approach. You won't need to provide the receipts, certifications, and insurance documents, go through the emissions test, engage in negotiations with potential buyers, or wait around for them to make an offer.
You can easily sell your car in Abu Dhabi with online car dealers. All you have to do is have your pre-owned vehicle valued, and the dealer will take care of as much as they can and properly explain what is required. Selling your car to a dealer is the best option if you need money for it right now or to get rid of it.
So why not trade in your vehicle with a dealer?
In comparison to selling your used automobile privately, the dealer will offer you a cheaper price. It is recommended to accept it if there is not a significant price difference between what the dealer is providing and the typical selling price. But if it's a significant amount, like a few thousand dirhams, it should transfer to classifieds.
Selling Your car in Abu Dhabi Online!
Why would you decide to sell your car by yourself? The price is more in your hands. This normally involves placing a classified ad for your used car. You can take pictures of your car and include information (location, car make, age, contact information, etc.) for your ad once you've done your research on the vehicle and determined what your realistic expectations are (after evaluating the age, condition, and mileage of your vehicle).
Expecting buyers to offer between 60 and 70 percent of the online asking price for your car. Some buyers can demand a mechanic's inspection of the vehicle. You'll want to have any inspections agreed upon upfront and to make the following clear to avoid any surprises charges, as well as potential fraudsters.
How to Transfer Car Ownership in Abu Dhabi!
You must visit the Abu Dhabi Vehicle Licensing Department with the buyer. However, there are additional locations all across the emirate. If you haven't already purchased auto insurance, you must do it at one of the insurance companies with a minimum 13-month validity before selling your car in UAE.
Additionally, you should schedule your used car's yearly inspection if it hasn't already been done. The service is available 24/7 for only AED 60 on different platforms.
You both need to carry the following paperwork to the vehicle licensing office:
· Your driver's license in original and photocopy
· Your passport in original and photocopy
· Your visa for the United Arab Emirates
· Your Emirates ID, both in original and photocopy
· Your insurance certificate with a 13-month coverage
· A previous registration card
· A test certificate (only if the registration has already expired)
· Letter of release from the bank where you borrowed money for the car
· If there is still money owed on the car, you will need a letter from the bank transferring the loan.
After paying a processing charge of AED 200, the buyer will immediately receive a new registration card or another option is that you can sell your car to CarPoint without facing all these hassles.
FAQs:
What steps is the procedure for selling an automobile in Abu Dhabi?
The following documentation must be provided by individuals to sell your car in Abu Dhabi. The seller must deliver the Mulkiya and Emirates ID (vehicle registration card). Along with the resident visa and, in the event of a car loan, the final loan payment confirmation, the seller is also required to produce a copy of the original passport.