+971508829990
+971508829990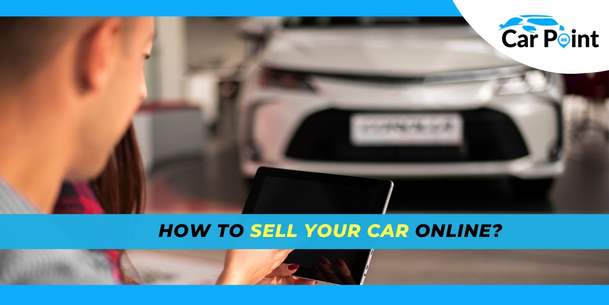 How to Sell Your Car Online?
If you're trying to sell your car online, there's no need to worry about visiting various dealerships to negotiate the best price. Selling a used automobile is typically a long and arduous process, but with CarPoint, it's quick and simple. Here's how to sell your car for the most money.
What to do Before You Sell Your Car Online?
There are numerous causes for which you might desire to sell your car online. Perhaps you have too many vehicles for one garage, or perhaps the vehicle simply isn't working for you anymore and it's time to find something else. Whatever your motivation, you must complete a few steps before you can successfully negotiate the highest price. Before taking pictures, check that the battery is completely charged. The tires have enough tread for safety, and the vehicle can start when someone tries to test drive it.
Protect Yourself from Scams!
It's crucial to think carefully about the procedure when you wish to sell something online. You must be aware of what might occur prior to, during, and after the sale, because there are many potential frauds out there. Nothing is worse than falling victim to a scammer and losing thousands of dollars. Do your research and pick a reliable firm with positive ratings. If you're going to sell something as valuable as your car online.
Get a Vehicle Inspection!
You'll need an examination before receiving a valuation for your car. By doing this, you can let others know if there are any issues so they won't buy something and then be let down. Visit one of those full-service gas stations where they will perform an examination for free. You can get a professional inspection performed by a mechanic. You may learn what the flaws are, and how much it will cost to solve them. Whether there are any current safety concerns that could lead to a disaster in the future.
Research the Best Time To Sell Your Car Online!
The majority of individuals believe that price negotiations are necessary when selling cars online. Knowing how much your automobile is worth before marketing? It will help reduce the amount of time spent attempting to justify prices with potential buyers. It can be exhausting for both sides. Discovering the value of your used car by looking at what others in your region are paying for similar vehicles may surprise you.
Clean-Up & Detail Your Vehicle!
Clean and condition your vehicle before taking pictures of it! Buyers want a spotless car they can drive away in, therefore it is crucial to go above and beyond. Make every effort to ensure that your car is well-kept both inside and out.
Check to see if your car's exterior is free of mud or dirt.
Avoid wearing perfume or fragrance while operating a possible buyer's vehicle, and wash down all windows and mirrors both inside and out. Additionally, don't smoke inside the car.
Remove any stains as thoroughly as you can before to prevent them from bleeding onto the seats.
Keep important documents inside the car where they are easily accessible, such as registration cards and maintenance records.

Take Good Interior & Exterior Photos!
Take quality pictures of the vehicle's interior and outside, and if you can, record some video. The best way to sell your car is to demonstrate your ability to be as descriptive as you can by capturing high-quality images. Someone who wants to know how your car looks on the inside and out is going to require a few high-quality pictures in order to get a sense of how it actually looks.
Make sure all the qualities are evident and captured on camera. So prospective buyers are aware of everything before making a decision. If wanted, include images of you driving the vehicle. This will give potential buyers more assurance when making an online purchase.
The Best Places Online To Find Buyers!
There are a few different listing possibilities, but it's crucial to keep in mind that there are hundreds of websites devoted specifically to online auto sales. The major advantage of selling your car online is that no in-person interactions are necessary. So there are no awkward chats or haggling to take place.
I believe that this makes things simpler because individuals frequently become agitated while attempting to close agreements in person. Due to the drawback that there are some shady and fly-by-night businesses out there, CarPoint exclusively connects you with verified and respectable purchasers.