+971508829990
+971508829990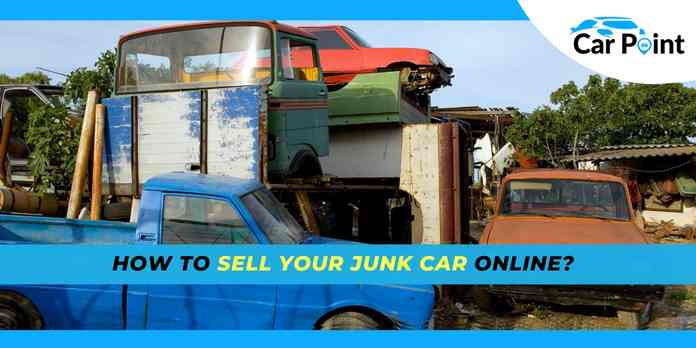 How to Sell Your Junk Car Online?
You want to sell your junk car online, but going to a dealer or garage looks tedious, and time-consuming. You could reject their offer because you are aware of your car's value. With the help of online car marketplaces like CarPoint, it is now simpler for you to sell your junk car privately and manage the entire transaction yourself.
Being in command of the price tag and negotiating will also lead to a greater net sales price. Because used cars are pre-owned, buyers typically search for a less expensive choice, but if you make the proper move, selling your junk car privately could result in the highest return compared to other options.
Assess your Junk Car's value!
The first step in selling your junk car online is to know its value. Find out the market's value or check online to see how much your car is worth to dealers, individual buyers, or as a trade-in. This allows you time to consider whether privately listing your car will be worth the time and effort you put into marketing it.
Assess your Junk Car's condition!
Customers will always think about the condition of the car. They will be ready to pay what you ask if they perceive that the car is spotless and in good shape. Examine your car's overall condition. Have a mechanic thoroughly examine it to determine what needs to be fixed right away. Although there is a slight financial cost, the results are objectively weighed.
You should rethink selling your junk car to a dealership on the market if there are too many issues to solve, they are expensive, or both. You have two choices: either fix it yourself before marketing it or advertise it in "bad mechanical condition" and expect smaller offers and lower prices.
Preparing the Documents to Sell Your Junk Car Online!
The basic information year, make, model and current mileage may be known, but you still need to know your car's trim level. A 2018 Honda Accord, for instance, can be an Accord EX-L with high-demand extras like central locking, leather upholstery, or a frontal display. Make sure you have a thorough list because changes may raise your car's resale value.
So that you may check to see if you missed anything, you must have your original sales documents. To convince your consumer that you're selling junk automobiles online in UAE in good condition and to help you receive a better offer, additional documents like the vehicle title, vehicle history report, and service records are also available.

Guide to Selling a Junk car online!
Due to the many financial plans that financial institutions now provide, owning a personal car is not as popular as it once was. On the other hand, replacing an old car with a new one that has just been released on the market and is adorned with extra amenities has become more significant in the current situation. This has led to the creation of a brand-new market sector called the Used Car Market. This market area has grown rapidly in recent years, with many car owners trading in their old vehicles for new ones.
However, the majority of them are worried about how to sell a junk vehicle since everyone wants to sell their vehicle for a price that is competitive so that the proceeds can be utilized to purchase a new vehicle. The following advice will help you sell your current automobile for the price you want if you're experiencing the same issue.
Know the Market Value Of Your Junk Car You Own!
As soon as the thought of selling your junk car crosses your mind, it is one of the crucial factors you should take into account. By doing this, you'll be better able to determine your car's actual value. It is common for automakers to discontinue newly released models of their vehicles after three to four years due to bad performance. In spite of its condition, if you regrettably own a car of the same make, it will still be able to attract potential buyers. Knowing your car's current demand on the market depends on knowing its market value.
Complete the Papers!
The next step is to compile all the documents, from the buyers of your car to its current Insurance and pollution test, in a file once you have determined the current value of your junk car. By doing this, you will give the potential buyer information on the age and condition of your car. In order to give the prospective buyer confidence in the vehicle's condition, attempt to save as many of the maintenance and replacement part invoices as you can.
Keep the Car Clean!
When selling your junk car in the market, the adage "first impressions are lasting" is true. Keep in mind that just as a clean and shiny automobile makes you happy, a car that is in good condition will make the buyer of your car happy. Remember that this will be a cost-affecting tip, thus check all faults in your car.
On the other hand, if your car has many faults then you will be surprised that you can get money from your old car by selling your junk automobile online still with the help of CarPoint in UAE. Whether it will be a non-running car. It will be preferable to have the car cleaned and washed by a qualified professional.
Advertising in the Local Newspaper and Online Platform!
Due to the rising popularity of Junk car buyers, the majority of auto dealers now have specific locations where current owners of their vehicles can resell them. In addition, you have the choice of placing its advertisement in regional newspapers and online directories. When doing this, be sure to show a clear image of your car from all sides so that potential buyers can evaluate its current state.
FAQs:
How can I sell my junk car online in Dubai?
Search online for junk car buyers and there you can see hundreds of results. But the safest place to sell a junk car online is CarPoint. Just contact them and they will offer you a car inspection and then a 30 minutes free car valuation.