+971508829990
+971508829990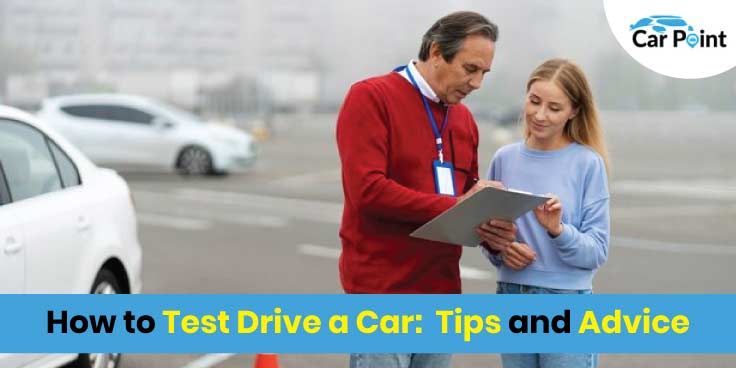 How to Test Drive A Car: Tips And Advice
Always think carefully and know how to test drive a car before selling a car in the UAE. After all, if you get one and later find something you don't like, this could end up being a costly error! Therefore, having a test drive can help you determine whether a vehicle fulfills your personal needs when you're considering selling a used car.
There is no substitute for getting behind the wheel first-hand while reading internet reviews. You can gain the confidence necessary to make a decision about whether to buy or look elsewhere by personally inspecting the car, driving it on a variety of road conditions, and observing how it performs parking and reverse.
We'll go over the insurance needs for a test drive in this blog. Additionally, we'll discuss the many aspects to take into account when taking a test drive in a new, old, or electric automobile and explain the distinctions between a standard and extended test drive.
Driving Tests And Auto Insurance!
You may typically expect a dealership to have insurance coverage if you plan to do a test drive there. Despite this, it is still a good idea to confirm your coverage before assuming the wheel.
However, you must make sure that you have your own insurance coverage if you are doing a test drive with a private seller. Verify the inclusion of driving other cars coverage in your auto insurance policy. Before going for a test drive, call your provider to get further information if you have any questions.
You can get in touch with your provider to set up "temporary car insurance" if you don't already have the required coverage in place. For the purpose of facilitating a test drive, this sort of insurance offers coverage for a relatively brief duration (often as little as an hour).
What To Look For Before A Used Car Test Drive!
It is quite unusual that a brand-new car you are test-driving has any substantial wear or technical faults. Before even taking the automobile for a test drive, it is advisable to conduct a more thorough inspection of the vehicle if you are considering selling any car.
This will enable you to identify any significant flaws that would prevent you from buying the car—or any minor ones that might allow you to bargain for a lower price if you are otherwise satisfied with it.
You should be wary if a seller declines your request for a test drive yet insists that the car is roadworthy. They might be making an effort to hide a flaw.



Check To See That All The Lights And Indicators Are Functioning Properly!
Verify the tread depth of the tires to make sure it is greater than the legal minimum of 1.6mm. If you choose to sell the vehicle, we advise having them replaced as soon as possible if they are below 3mm.
Check the seatbelts: You risk receiving a seatbelt fee if you drive or ride in a vehicle without functional seatbelts. Check that all seatbelts are present and functioning as intended because statistics show that they save lives.
Examine the mileage - Mileage has an impact on a car's value, so pay attention to the odometer reading and whether the automobile has a high mileage for a used car of its age.
However, keep in mind that if the MOT certificate has an incorrect mileage or the car shows more wear and tear than you would anticipate given the declared mileage, odometer manipulation may have occurred.
Make sure that all of the electric features, including the heaters, air conditioners, and climate control, are operational by testing the electrics.
Look under the hood - Verify that the engine oil level is right and look for any indications of oil leakage or buildup. To check the state of the oil, pull the dipstick. It is a good indication that the car has just been maintained if it is golden in color rather than black.
Keep an eye out for any mustard-colored accumulation, especially inside the oil filler cap, since this could indicate a failing head gasket. (Floating debris in the water expansion tank is another potential early sign of a failing head gasket.)