+971508829990
+971508829990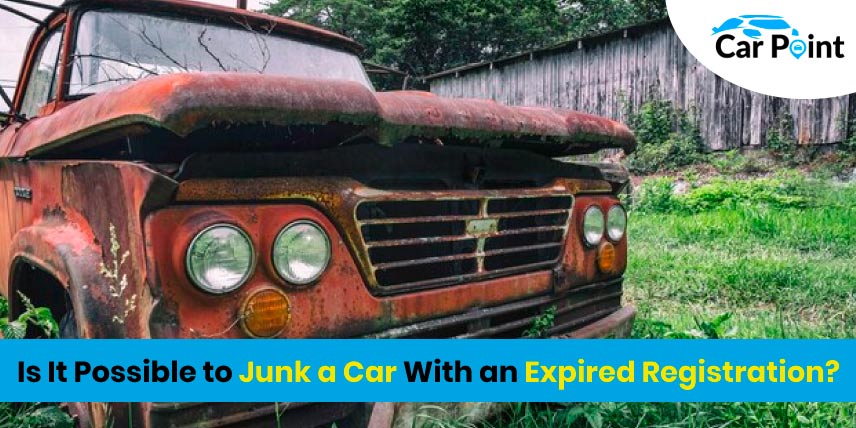 Is It Possible to Junk a Car with an Expired Registration?
Your documents are out of date, but you still need to junk your car. Use CarPoint.ae to find out how to junk a car with an expired registration and the car-selling procedure.
For some people, owning a junk car can be a major burden. Not only is an abandoned car in your driveway or on the street ugly, but it can draw the wrong kind of attention. If this is you, your top priority should be to get rid of it as soon as possible.
But it's not always that easy. When selling a car or junking a totaled car, paperwork is typically involved, and you may not know what to do if the car is a junk car without a registration. An expired registration on a junk car will cause some issues.
You shouldn't be concerned if the registration on your car has expired. Since registration is only applicable to vehicles that are being driven on the road, you are not required to pay for registration when you junk an automobile with an expired registration. Junkyards can disassemble and recycle cars for scrap without requiring registration.
Who Purchases Cars With An Expired Registration?
A car with an expired registration will most likely be purchased with pleasure by anyone who is willing to purchase a junk car. Usually, a title—rather than an active registration—is all that's required to finalize the transaction. But not every buyer you find online is the best place to sell your car.
For instance, dealerships frequently undervalue junk cars and cars with issues. Since they specialize in cars that are simple to buy and resell, the trade-in value they determine for a junk car will take the hassle out of having to take it to auction. You should look somewhere else if you want the best deal on your car.
A trip to your neighborhood junkyard is your best alternative. In any condition, junkyards, scrap yards, and salvage yards are willing to offer you money for your car, or at the very least, scrap metal prices. When you take fees, towing charges, and other expenses into account, it can be time-consuming to compare your options and determine who is actually giving the best price for your car.
Sell Your Junk Vehicle With An Expired Registration!
You could bring your car to a junkyard, but why not use CarPoint.ae, the cutting-edge option? We provide a very contemporary online service that makes it simple and quick for you to sell your car and receive a competitive quote.
All you have to do is use our system to evaluate your car in order to receive an offer. After providing the requested information about your car and waiting a brief period of time (usually no more than 30 minutes), you will receive an estimate.
We don't charge for initial consultations, and our quotes are guaranteed for seven days. You can arrange for your pickup after you accept an offer from Carpoint.ae. After you accept our offer, a tow truck will arrive at a prearranged time within 24 to 48 hours to retrieve your car and give you your check.
Junking a car with an expired registration is not something to be afraid of. A tow truck can come get it for you as long as it's available, allowing you to sell your junk car and earn some money at the same time.



What Documentation Is Required To Junk A Car?
Regardless of the car's registration, you will require a title in order to junk it. You may be able to establish ownership with your license and registration, or at least your previous registration, if you were missing a title. If the car isn't registered, the best way to make sure a transaction goes well is to have your license, vehicle identification number, and title.
I can't stress enough how important it is not to drive a working, unregistered vehicle if you own one. To get you pulled over and fined heavily, which can lead to additional stress, all it takes is for a police officer to run your tag through the system.
Is It Legal To Junk A Car In UAE If The Registration Is Expired?
In UAE, a car with an expired registration can be junked. Towing a junk car with an expired registration is acceptable if it is simply a junk car and is not being driven, even though driving a vehicle in UAE requires it to be registered.