+971508829990
+971508829990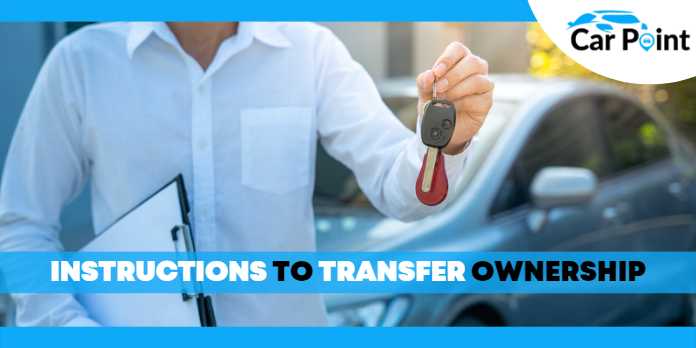 Step by Step instructions to transfer ownership when you sell any car
If you want to transfer ownership when you sell any car then you need not worry because it will only take a short time to complete it. The government of Abu Dhabi has made the process rather simple if you are going to transfer ownership of any car. You only need to complete paperwork and the whole process is pretty simple. There could be so many reasons behind your car selling like you want to buy a new one, you are leaving the country, you want to give your car to a friend or relative, or maybe any other reasons. You have to pay a fine if you don't complete the procedure of transferring ownership before selling any car.
Transferring Ownership
The first thing step you need to keep in mind before selling any car online or transferring ownership is to clear all the pending traffic fines or salik which are related to your car. If the process of selling a car is done and you want to transfer ownership of the car then the owner and the buyer both need to present at either the Abu Dhabi traffic police HQ or RTA licensing center to complete the process of car ownership transfer. For more details do read our blog thoroughly and you can easily understand the step-by-step guide to transfer ownership when you sell any car.
Documents you must have before selling any car
As we all know very well that documents play a vital role in selling any car quickly. To start the process of selling any car the seller should have the following documents,
1. Emirates ID
2. Car registration card (Mulkiya)
3. Original passport copy
4. Residence visa
5. Final loan payment confirmation
6. NOC (no-objection certificate)
7. Technical inspection certificate of car
The buyer needs the following documents ready
1. Emirates ID
2. Driver license
3. Passport
4. Valid residence visa
5. Car's insurance policy

What to do at the Abu Dhabi Traffic Police HQ or an RTA licensing center?
If you are ready to sell any car in Abu Dhabi then there's something need to understand for both the buyers and the sellers of used cars. Both buyer and seller need to submit all relevant documents and filled-out the car's grant application from the new owner of the car at the registration desk. For this purpose, both seller and buyer need to be at the Abu Dhabi traffic police HQ and RTA licensing center. The new owner needs to pay a transfer fee which depends upon the size and type of any car. All this process can be completed in just 10 minutes. After that, the new owner can get a registration card (Mulkiya) with their own name. This process depends on all the documents because if all the documents are in order and all the fines are clear then it can be so easy for both the car seller and the new owner of the car. To claim a refund for a used car the previous owner need to submit a copy of the new registration card to the insurance company. It can be very helpful for you to keep a copy of your new registration card as proof when the car has been sold because it can save you from any problem that arises later. In cases where the owner of the car has died, a representative must obtain a letter from a court along with a death certificate in order to transfer ownership of the car.
How Do Emirates Transfer Car Ownership?
Another frequently asked question is how to transfer ownership of a car between emirates. The procedure differs slightly if the new and old car owners are from different emirates.
For example, if a car is being transferred from another emirate to Abu Dhabi, the following requirements must be met. The car must be deregistered in the city in which it is registered before being marked for export. Because it is illegal to drive an unregistered car without number plates, the car will need to be transported to the other emirate on a recovery truck.
Things to Consider
· Keep these factors in mind when transferring car ownership.
· Both the buyer and seller must be physically present for the transaction to take place. If either party is unable to appear, an authorized legal representative must do so in their place. Please keep in mind that the representative's power of attorney must be issued ahead of time.
· Before the transfer can take place, the seller must pay off any outstanding traffic fines.
· Registration, possession, export, or transfer service must all be included in the application.
· Transferring ownership of any car after the owner's death takes a little longer. A representative must appear in Dubai court and obtain a letter, as well as a death certificate. To move forward these documents have to be presented at a service center.
Conclusion
Are you looking to sell any car easily? Residents of the Emirates frequently wonder how they can close the deal and transfer car ownership to a new buyer. As with other legal procedures, the government has designed a fairly simple process for transferring vehicle ownership that does not require much of your time. Here are some points to consider when transferring car ownership in Abu Dhabi. Leave a comment if you like one of them.
FAQs
1. How can I transfer a driving license file from one emirate to another?
The UAE government has used technology effectively to streamline most legal processes. For example, in Dubai, car registration renewal can be done online. Similarly, online car registration renewal in Abu Dhabi is a convenient option that has made life much easier for residents who are socially isolated.