+971508829990
+971508829990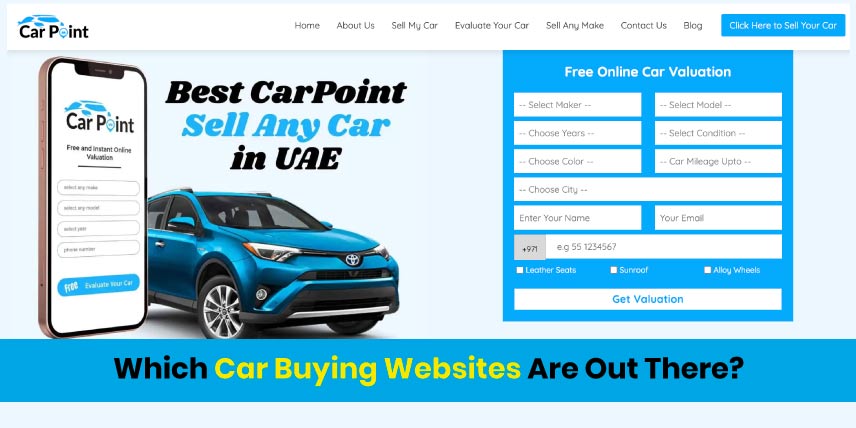 Which Car Buying Websites Are Out There?
To sell your car for cash, are you looking for the best car-buying websites? CarPoint is useful. We discuss several possibilities and the reasons we believe we can secure the best price for you.
Wouldn't it be amazing if there were a website where people could sell cars online? All you need is a place where you can enter information about your automobile and, as soon as you click "submit," your car will be gone and you will have cash in your palm.
There are websites for buying cars, though. If you've ever looked up "sell my car online," you've probably found a lot of results. Many of them won't be the best websites for buying a car online.
Some of them are good, while others are merely out to con you. You'll need to browse through the several websites that sell cars online. What are the top automotive websites, and in particular, where is it best to sell a car?
Best Car Buying Websites - How to Sell My Car Online?
The best way to sell your car online is with CarPoint, a website that buys cars. It simply requires a few minutes of your time and is really simple to use. We are the greatest option if you're looking for someone to "buy my car." Simply enter a few details about the car, including its condition, and click "Submit." Online trash car sales have never been simpler.
You'll receive a guaranteed offer from CarPoint for your vehicle. There are no conditions, unlike other automobile services; the offer is for your car "as-is," and our assistance is totally free.
We Buy Cars Online, Fast!
If you accept the offer from us, we'll pick it up from wherever it is if it is accessible, whether it is in your driveway, a repair facility, a parking space at your place of business, etc. We'll take your automobile away and give you cash in exchange. Even pay for the tow if necessary!
Why are you holding out? Request your assured offer right away!

FAQs:
What is the best online car sales site?
What you're searching for and the type of vehicle you wish to sell have a significant impact on this. For instance, a service like CarPoint can be ideal for you if you're looking for a trade-in.
However, many online dealerships won't be interested in your car if you believe it might have a low trade-in value or needs mechanical or physical repairs before it can be traded in. It makes more sense to rely on a company that specializes in such circumstances.
How can you sell a car online?
Online automobile sales can often be a rather simple process. Typically, it entails giving accurate details and images of your car, accepting a quote, setting up a pickup process, and possibly providing your car's VIN. We can get a price at CarPoint in just 30 minutes, and we can pick up your car in as little as 24 hours.