+971508829990
+971508829990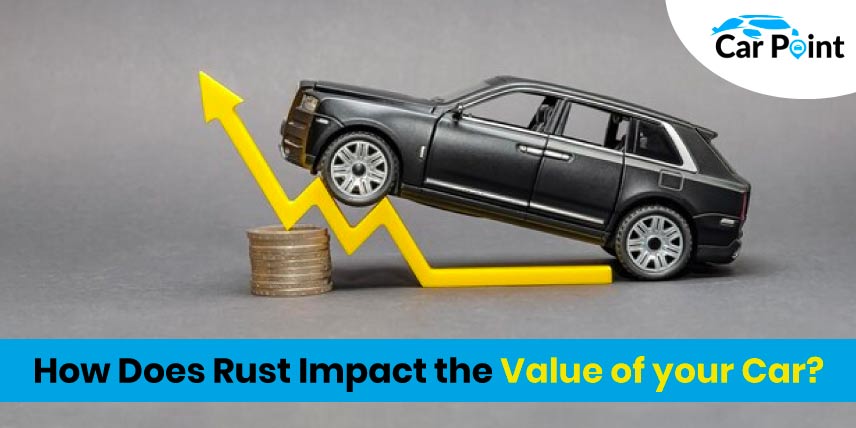 How Does Rust Impact the Value of Your Car?
The extent of the rust and its location determine how much it impacts the value of your car. CarPoint.ae goes into greater detail. Not only does rust eat away at your car. If ignored, it will also devalue your car, which is something no one wants!
We've already talked about the various problems that can arise from an automobile sitting idle for an extended period of time. In addition to mechanical issues, prolonged periods of disuse and lack of protection may cause your car to rust.
Furthermore, depending on how bad the rust is, the price of getting your car painted can go through the roof. Let's examine the potential causes of rust on your car and how it affects its value specifically!
How Much Does It Cost To Remove Rust From A Car?
Depending on the extent of the damage and where the rust is located on your car, the cost to remove it can vary. The total cost of removing rust from your car can occasionally be affected by the make and model of your vehicle. This is due to the possibility that some models of the car make some areas more difficult to access than others.
Not all rust is equal; surface rust is the easiest and least expensive to repair, so a vehicle with it will hold its value better than one with other types. The more difficult and costly the repair is, the less value your car will ultimately have. Now let's explore each.
Minor rust repairs elbow grease" will usually solve minor rust repairs (less than two inches in diameter) that don't involve any metal perforation. Any auto supply store will sell you a rust treatment kit.
Often, you can save a lot of money on labor at an auto body shop by doing this small-scale rust spot repair yourself. The cost of having the rust on your car removed will likely increase as the rust spots get bigger and penetrate deeper into the metal's surface without still causing any holes.
The cost of repairs for each medium-sized rust spot can be differnet. Although the previously mentioned rust kit might still be useful in this situation, a filling compound might also be required to complete the task.
Unlike minor and moderate rust repairs, major rust repair of damage is usually too severe for a do-it-yourself project and should be left to a professional (unless you're a professional, in which case, go ahead and tackle it). In most cases, you will need to remove the damaged area by cutting when dealing with severe rust.
After that, a matching panel that has been refinished to blend in with the surrounding area is welded over the damaged area. When you include a paint job, your bill quickly climbs into the thousands!
What Is The Impact of Rust on Trade-In Value?
To be honest, rust will reduce the trade-in value of your car. When someone is appraising your car, they will likely start by pointing out any cosmetic flaws, which they can then use as justification to lower the final price.
You can be sure a larger portion of the trade-in value will be deducted if the rust has affected your car's mechanical components (fuel tank, exhaust system, etc.).

What Is One Person's Trash Is Definitely Our Treasure At Carpoint.ae!
Don't worry if your car has a lot of rust on it. We'll immediately take it off of your hands and give them some money! After contacting you, our team of customer service agents will provide you with a quote in less than 30 minutes.
If you accept our offer, your rust bucket might be attached to a tow truck and traveling to the largest junkyard in the sky in as little as 24 to 48 hours. Completely free of cost! Reach out to us right now, and together, let's find a new and the best junk car buyer!
FAQS:
How Much Does Rust Repair Cost?
If done correctly, professional surface rust repairs can cost as much. On average, though, total rust removal can cost is 30% less.
Does Rust Qualify as Frame Damage?
Rust on the surface is not regarded as frame damage. But once it breaks through the surface and starts to harm the frame of your car, it's considered frame damage and can get really bad.