+971508829990
+971508829990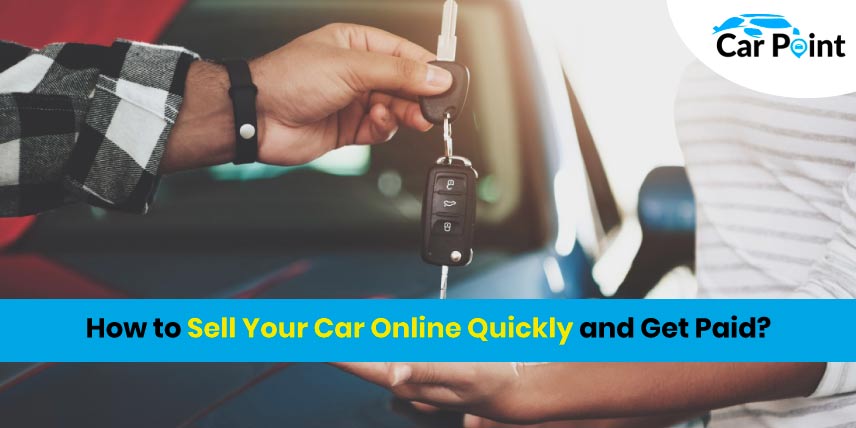 How to Sell Your Car Online Quickly and Get Paid?
Are you prepared to sell your car online quickly? You may get compensated and sell your car in a simple manner. Get an offer from CarPoint today and learn how much your old car is worth!
Are you prepared to drive the new car? Have you been noticing how your own car seems to be lacking in comparison to the newest features?
It can be exciting to sell your used car for a newer model, but it's not exciting to shop around from dealership to dealership looking for the greatest bargain. You may have heard that there are better ways to trade in an automobile.
Does It Make Sense to Sell Your Car Online Quickly?
Trading in typically refers to the process of selling your car to a dealership and receiving payment from the dealership in the form of a credit toward a new vehicle. This has the drawback that not every dealership will give you the greatest bargain on your automobile and not every dealership will have the model you want available.
Dealerships have two options for what to do with vehicles. They will put newer, popular used models on their used lots for resale. Yet, it doesn't take long for the used lot to fill, and most trade-ins are sold at auction.
Dealerships frequently don't offer the car's actual fair market value because they won't make much money off the sale of the used autos they accept. This implies that you will have to accept less money for your new car than your present car is worth.
You don't have to accept this subpar offer, though. You should instead sell your own car and use the earnings to pay for your new vehicle!

How To Use CarPoint To Sell Your Car?
With us, selling your car is simple and convenient from the convenience of your home. There are a few things you must do before receiving your quote. First, totally empty your automobile. Don't forget to check for hidden places where personal stuff might reside, including your center console or glove compartment!
You need to snap some shots of your automobile when it has been completely empty. Choose out numerous viewpoints on a day with plenty of sunshine. Writing down the Vehicle Identification Number (VIN) of your car is a terrific idea at this stage because you'll also need it.
Look on the driver's side of your windshield to find this number. It has 17 digits and is exclusive to your car. Your title is the only additional item you'll need to sell. Don't worry if you misplaced your title or if you didn't ask for a physical copy.
You must request a copy from your neighborhood DMV, which can give you a new one in a week or two. Although the local criteria for this application may differ, they are often relatively straightforward and only call for a copy of your driver's license and registration as well as the vehicle identification number (VIN) and the title number.
You may find the title number, which is eight digits long, on your registration. You're ready to sell after you have your title and images.
Just upload your pictures and VIN after that! In just 30 minutes, you'll receive a quote. Our purchasers may be reached by phone, email, text message, or our in-person messaging system if you have any questions.
As we always provide what we promise before your car leaves your driveway, our quotes are guaranteed.
Accepting our FREE online car valuation and setting up your pickup are the only remaining steps. Both title transfer and towing are always free. When it's most convenient for you, we may arrange for a pickup, and we can arrive as soon as 24-48 hours after you accept our quote.
You'll need to turn over your keys and sign over your title when the driver comes to pick you up. By doing the sign-over at this point, you can make sure your sale is complete, secure, and legal. Accept your payment after that, and then watch as your automobile is dragged away!
You may now use that money to purchase your new car because you got the greatest deal possible for your used car. With CarPoint, you can quickly and easily sell your car online for the greatest price!