+971508829990
+971508829990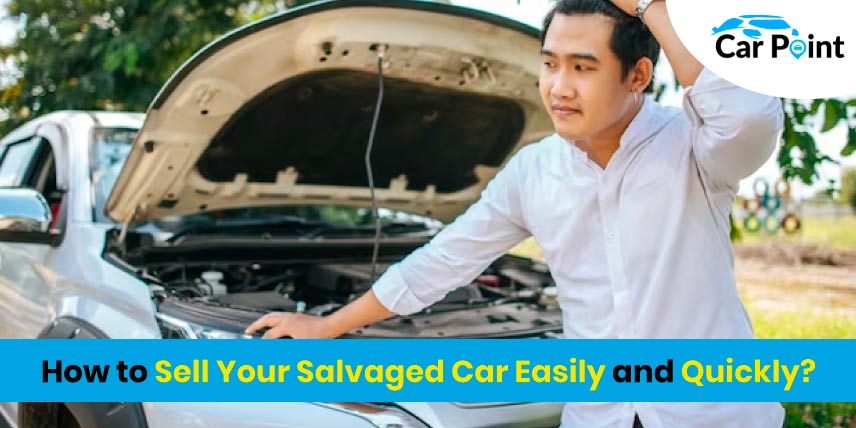 How to Sell Your Salvaged Car Easily and Quickly?
When you want to sell your salvaged car because it is involved in an accident, the insurance company will normally evaluate the vehicle to see if it can afford to pay for the repairs.
The car may be classified as "beyond economic repair," written off, and put into one of four salvage categories if the cost of repairs is greater than or equal to the vehicle's entire value. Even if an automobile is later repaired to high quality, any assigned insurance categories will remain on its records if it is written off.
The possibilities for selling salvaged cars in various categories, how different salvage categories affect car value, and the reasons why salvaged cars are less valuable than their undamaged counterparts are all covered in this blog.
Can I Sell A Salvaged Car Easily?
There are various choices available to you when it comes to selling a salvaged vehicle, including:
Selling Your Car independently!
You ought to be allowed to sell your car privately as long as it has been fixed up and is safe to drive. You can increase the likelihood that the correct people will notice your salvaged motor advertisement by posting it on a free vehicle advertising website.
Supplying a Dealership!
Depending on its condition, you might be able to trade it in for a newer model or sell your current vehicle at a nearby dealership. Remember that, some dealerships won't even buy salvaged autos because they can't be marketed as legal used cars.
Selling To A Service That Buys Cars!
Regardless of its state, CarPoint.ae will buy your salvaged car, you can sell a damaged car or even a non-running vehicle.



How Might My Car's Value Be Impacted By Its Salvage Status?
Your car's value will be impacted if it falls under the salvage category. Which salvage category it belongs to will determine the value that is subtracted:
Since vehicles have not sustained structural damage, repairs are simpler. Compared to other recovered automobiles, cars maintain more of their undamaged worth.
Vehicle classification exhibits structural flaws, including the bodywork and chassis. These cars can still be made driveable, despite the fact that repairs can be costly.
These vehicles are regarded as being beyond repair and cannot be made roadworthy again.
These cars may be disassembled and sold for parts.
However, your only choice if you own a vehicle is to scrap it. This group of vehicles will have the greatest drop in value from their pre-accident worth.
After getting your initial estimate, we advise changing our salvage assumption in order to make your online car valuation as accurate as possible.
Why does the fact that my car was previously sold as salvage influence its value?
After an accident, a car's value always drops. The insurance is permanently recorded to a vehicle's record when it is declared an insurance write-off and issued a salvage title. In order to recoup some of the cost once an automobile is written off, the insurer frequently sells it at a salvage auction. The buyer may choose to fix the car in order to sell it, depending on its state.
A car with a salvage title is often valued 20–40% less than an identical undamaged vehicle, even after being repaired to a roadworthy standard. No matter how carefully the repairs are made, there may still be some structural damage, and the car may not operate as safely or smoothly as it once did.
Salvage vehicles are regarded as "beyond repair" and cannot be legally fixed to be used on the road. As a result, they are much less valuable vehicles that can be fixed up and made to run again. Although this doesn't always happen in reality, it is the seller's duty to make clear the vehicle's category status. So, before selling a used car, we suggest performing market research to find reputable car buyers.
What does the fact that my car has been salvaged mean?
Having been certified unsafe for use on the roads by insurance, a salvaged car is one that has been in an accident, stolen, or weather-related damage. From there, the insurer can offer the car for sale at a salvage sale.
A salvaged vehicle may be fixed, sold for components, or trashed, depending on its state.