+971508829990
+971508829990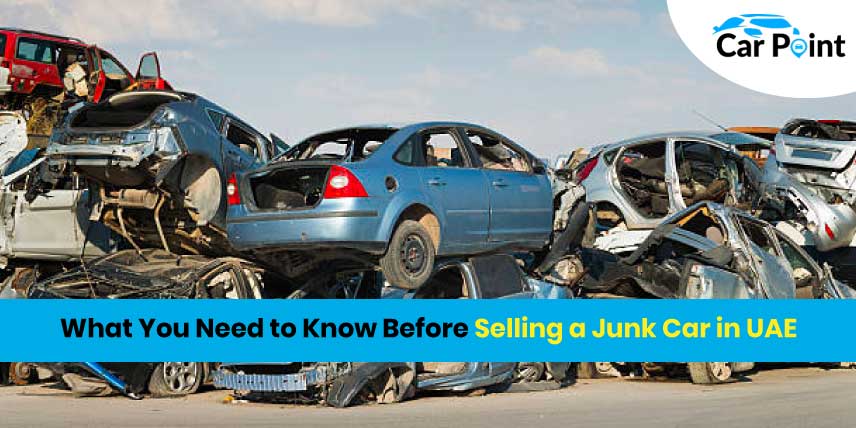 What You Need to Know Before Selling a Junk Car in UAE
Although it may appear to be a challenging and stressful undertaking, selling a junk car in UAE may be accomplished swiftly and simply with the appropriate information. With the help of this article on selling used cars in the UAE, learn how to get rid of your old automobile while earning some additional cash.
Your cherished car can eventually stop working as a result of a collision or a crucial component failing. A vehicle of this type that has reached the end of its useful life and is hazardous to operate any longer is referred to as a junk automobile.
If it will cost more to fix your car than it is worth, it might also be deemed junk. When your auto insurer determines that it is not practical to repair a car and issues a salvage title to it, designating it as totaled, that is another incentive to sell your used car successfully.
If your automobile's mechanical problems are recurring, it's time to sell your junk car and say goodbye to it.
Establish the Car's Value before Selling a Junk Car in UAE!
Establishing the worth of a trashed automobile is necessary before you can sell a car in UAE. Take into account elements like the car's make, model, and overall condition, including any corrosion or damage.
Set a reasonable price after getting a sense of the market value of your car and be ready to haggle. When selling your automobile in the UAE, being aware of its value will help you get the best price.
Start Gather All Required Documents and Paperwork!
Get all the required papers together before selling your junk car online. You'll probably require ownership documentation, such as the title or registration book.
Before you can legally sell the vehicle in the UAE, you might also need to have it examined by qualified mechanics and present a certificate of roadworthiness.
Before starting the sale process, make sure to research local legislation for more information. CarPoint can buy your old, junk car without any hassle.
Get the Vehicle Prepped for Sale!
Once all the paperwork is in order, it's time to prepare your trash automobile for sale. To decrease the weight rather than having potential car buyers find anything you'll have to mail off later, start by getting rid of any personal items that may be sitting around in the car.
Then think about spending the time to clean the car's exterior as much as you can because, despite the fact that it may be a trash car, purchasers don't like unclean cars and first impressions help to secure a good sale price.

FAQs:
1. What are the documents required to sell a car in UAE?
Vehicle Online Selling Agreement
Both parties' original Emirates ID cards (buyer and seller) and valid passports are required for GCC travelers. Visitors from Arab countries must have a copy of their passport and a current visa.
The dealerships must pay the RTA 20 AED through a credit card or e-wallet.
2. What is the procedure to sell a car in UAE?
Travel to a permitted site. You will need to formally transfer ownership of the vehicle to the new owner, which may be done at any of the RTA-approved centers located around Dubai.
Pay off all outstanding fees and obligations.
RTA required vehicle inspection.
Bring the required paperwork.
Clear Loans.